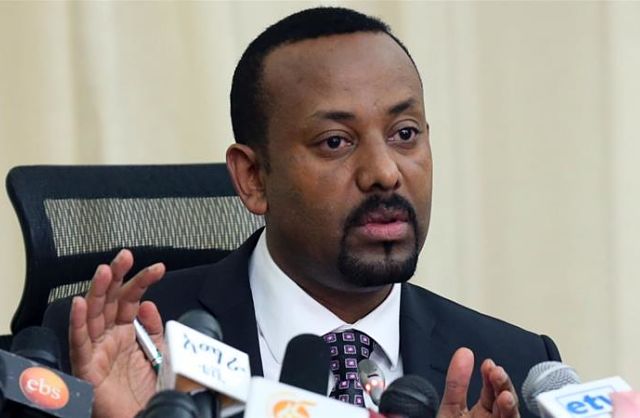 Tadias Magazine
By Tadias Staff
Updated: August 27th, 2018
New York (TADIAS) — Just like the underground pamphleteers and newspaper editors during the American revolution, independent journalists and social media activists — some of whom were imprisoned or exiled for many years — played a fundamental role in the longstanding movement for change in Ethiopia that recently culminated with the historic inauguration of Prime Minister Abiy Ahmed on April 2nd, 2018.
In one of his first and most memorable acts as the new leader of Ethiopia Dr. Abiy moved swiftly to free jailed reports, bloggers, opposition members and invited those who were exiled to return home. He also unblocked websites run by opposition groups and granted pardons to owners who were charged under the country's draconian anti-terror legislation that in the past was primarily used to stifle dissent.
Independent Journalism Driven Out
"Critical media was being decimated one way or another, and journalists were leaving the country," says Tsedale Lemma, the Editor-in-Chief of Addis Standard. "We became at some point, the second-largest country producing journalist asylum seekers."
Tsedale's reflection was part of a recent and timely article titled "How Social Media Shaped Calls for Political Change in Ethiopia," focusing on the new era and "the hopes for ethnic unity, democracy, freedom of speech and media reform," which was published by Al Jazeera this month. The piece points out that Ethiopia's "newfound hope was no coincidence; it was the culmination of hard-fought political activism that had forced change upon the authoritarian nation."
"You cannot imagine this change without social media," Al Jazeera quotes Jawar Mohammed, the founder of Oromo Media Network (OMN). Jawar is one of several activists who answered PM Abiy's call and returned to Ethiopia this summer after 13 years in exile in the United States. In another interview with The Guardian Jawar added: "We used social media and formal media so effectively that the state was completely overwhelmed. The only option they had was to face reform or accept full revolution."
Disinformation on Social Media
Unfortunately, despite Dr. Abiy's groundbreaking leadership and the good will from the general public, some detractors are misusing social media to spread disinformation, propaganda and hate speech to divide people, sow distrust and incite ethnic-based animosity. Abiy himself admitted in a recent televised comment that rumors and disinformation were largely to blame for the recent ethnically motivated mob violence in several cities particularly in South Eastern Ethiopia leading to a partial Internet shutdown.
According to Reuters: "A surge in ethnic violence, sometimes in the form of mob attacks, has displaced nearly 1 million people in the past four months in southern Ethiopia and is inflaming bad feeling between ethnic groups in other regions. The violence threatens to undermine Prime Minister Abiy Ahmed's calls for unity in one of Africa's most ethnically diverse countries. It also overshadows the popular liberal measures he has announced since coming to power in April."
This past weekend in his first press conference since taking office Dr. Abiy addressed this issue and emphasized his vision to hold a "free and fair election" in 2020. Elias Meseret at Associated Press quotes PM Abiy Ahmed as stating: "My dream is that doubts about the ballot box will disappear," and promising a peaceful transfer of power if he loses. He continued: "there are groups that are working in unison to cause chaos in different parts of the country. They are triggering peoples' emotions to this end."
PM Abiy Ahmed likewise discussed concerns about the practice of shutting down Internet in Ethiopia following unrests, which was routinely implemented by the previous EPRDF leadership. Per the Associated Press: "Abiy appealed for understanding and said it might have saved lives. "But curbing access to information and cutting the internet is not the way forward," he added, and urged youth to use it responsibly."
Moving Forward
It is also worth considering that, from our perspective as journalists, in the long-term the most democratic way to sustain the rule of law and counter the dissemination of unverified news via social media is to strengthen, expand, empower and protect independent, professional and private media infrastructure, which has been severely suppressed. Private media groups should be free of government interference as well as be more representative of the population and not just opposition media.
Last week the 13-member justice reform advisory council, which is tasked to revise the country's most repressive anti-civil society proclamations, held a public meeting in Addis Ababa engaging stake holders including activists and journalists, some of whom had been victims of these laws, according to Human Rights Watch. "The working groups will conduct consultations and propose amendments – reportedly within 3 months, in time for parliament's return from recess."
In the Al Jazeera feature journalist Eskinder Nega who was released a few months ago after six years in prison echoes Thomas Jefferson, one of America's founding fathers and the main author of the Declaration of Independence. Jefferson, who went on to serve as the third president of the United States is remembered for eloquently expressing that he'd rather have newspapers without a country than a country without newspapers.
"If Abiy Ahmed does not deliver the promise of democracy, then we'll be back to social media," Eskinder says. "I'm prepared to go back to prison again. So, whether there's democracy or no democracy, it's back to work. There's no choice."
—
Related:
PM Abiy Ahmed's US Tour in Pictures
Join the conversation on Twitter and Facebook.