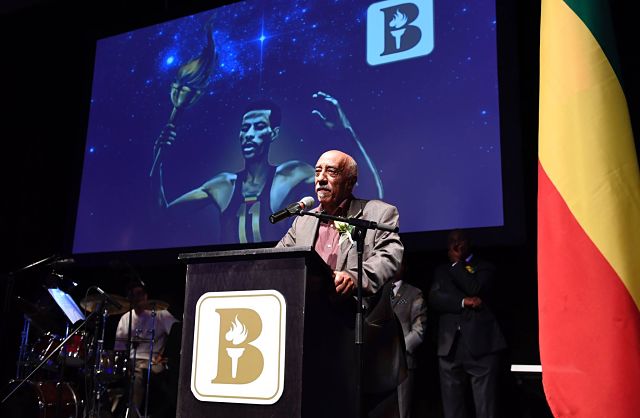 Tadias Magazine
By Tadias Staff
Updated: August 31st, 2018
New York (TADIAS) — What do Mulatu Astatke, The Weeknd, Miruts Yifter and the Pankhurst family have in common? They are all recipients of the Bikila Award.
Named after the legendary Olympian marathoner Abebe Bikila the annual award ceremony organized by members of the Ethiopian Diaspora in Toronto, Canada showcases inspiring achievements of the Ethiopian community from the arts to academia and sports.
The 2018 Bikila Award celebration and dinner will be held on Saturday, September 22nd at Chestnut Residence and Conference Center in Toronto.
Celebrating its fifth year the Bikila Award ceremony "has become one of the most anticipated events in the African-Canadian community calendar," organizers said in a press release. The event "draws hundreds of attendees from within and outside of the Ethiopian-Canadian community."
This year the winner of the Bikila Lifetime Achievement Award is philologist and world-renowned scholar of the Ge'ez language Professor Getatchew Haile. In addition, the Bikila Award will honor Dr. Catherine Hamlin, Founder of the Addis Ababa Hamlin Fistula hospital with the Medical & Humanitarian Services Award, as well as Dr. Siegbert Uhlig a distinguished Professor Emeritus of African and Ethiopian Studies at Hamburg University in Germany who will receive the Professional Excellence Award. Professor Uhlig founded the Journal of Aethiopica, and as Editor-in-Chief launched five volumes of Encyclopaedia Aethiopica focusing on Ethiopian studies and involving contributions from hundreds of scholars hailing from approximately 30 countries.
Other 2018 honorees include Bethlehem Tilahun, Founder of soleRebels (Business Excellence Award); Professor Tessema Astatke (Professional Excellence Award) in recognition of his primary research areas that designed linear and nonlinear regression and nonlinear time series modeling; and Benyam Belete (Community Service Excellence Award) as founder of Mekedonia, a philanthropic organization in Addis Ababa that provides services for elderly and mentally disabled individuals.
The Academic Excellence & Scholarship Award goes to students Ednah Negatu, Semir Bulle, Zatty Tameru and Caleb Jara.
Professor Mammo Muchie, a renowned Pan Africanist, currently a Professor of Innovation Studies at the Institute of Economics Research on Innovation at Tshwane University of Technology in South Africa is the keynote speaker. He is also an Adjunct Professor at the Adama Science and Technology University, Addis Ababa University, University of Gondar and Arsi University in Ethiopia.
The 2018 honorary guest speaker will be journalist, novelist and playwright Jeff Pearce who is the author of Prevail – a book about the Italian invasion of Ethiopia in 1935. Pearce connected with survivors of the Italo-Ethiopian War in the 1930s and 40s and discovered additional records of Britain's role from the London archives. Prevail is now being adapted into a documentary feature film.
—
If You Go:
The 2018 Bikila Award Celebration and Dinner
Saturday, September 22, 2018 at 6:00 PM
Chestnut Residence and Conference Center,
89 Chestnut Street,
Toronto, Canada
www.bikilaaward.org
Related:
Photos from past Bikila Award Ceremonies:

Previous winners of the Bikila award include Mulatu Astatke, Ethiopian-Canadian pop music superstar Abel Tesfaye (The Weeknd), Miruts Yifter, one of the greatest middle distance runners of all-time who died in 2016 at the age of 72, as well as Dr. Taffara Deguefe and the Pankhurst Family who were honored two years ago with the 2016 Lifetime Achievement Award. (Courtesy photographs)
Join the conversation on Twitter and Facebook.