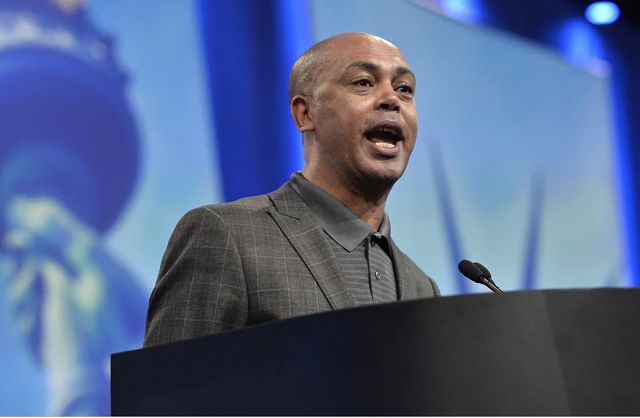 International Rescue Committee
Ethiopian refugee Tefere Gebre was just 15 years old when he arrived in the United States—starting over in a new world alone, without any family by his side.
Over 30 years later, he is executive vice president of the AFL-CIO—the American Federation of Labor and Congress of Industrial Organizations, the largest labor union in the world, representing over 12 million Americans. Gebre is the first refugee elected as a national officer of the organization.
Gebre was still a boy when he was forced to flee Ethiopia, a country that suffered political turmoil and famine during the 1980s. "People were getting murdered on the streets by the government," Gebre says. "They were just grabbing kids and torturing them if they were suspected of being an anarchist or aiding the opposition. That's when I knew I had to find a way to get out."

Photo of Tefere Gebre at age 3. Gebre as a child in Ethiopia: "Refugees leave with nothing," he says. "But I somehow I found one photo from when I was three years old." Tefere Gebre first joined a union while working a night job loading UPS trucks in college. In 2013 he became the first refugee elected as a national officer of the AFL-CIO. (Photo: Courtesy AFL-CIO Photo: Courtesy Tefere Gebre)
In 1982, Gebre and four friends managed to escape to a refugee camp in neighboring Sudan, walking through the desert for 93 days. There they applied to enter the U.S. through the U.N. Refugee Agency (UNCHR), taking several written and oral exams in the vetting process.
"When the UNCHR announces who has been accepted to resettle to the U.S., they post the names outside their office," says Gebre, recalling the jostling crowd pressing against him as he searched the list. "That was like another birth for me, when I saw my name there." His four friends did not make the cut.
But Gebre didn't have any family members in America, and he needed a sponsor to support his relocation. His mother remained in Ethiopia. His brother, who had lived in the U.S., had died in a car accident.
That's when the International Rescue Committee stepped in to help. Currently operating in 27 U.S. cities, the IRC supports newly arrived refugees by providing immediate aid, including food, housing and medical attention.
"I was received in New York by an IRC staff member," Gebre says. "Then they put me on a plane to Los Angeles and an Ethiopian man who worked at the IRC met me at the airport."
IRC staff members helped Gebre and three other Ethiopian refugees apply for driver's licenses, fill out I-9 forms for employment, and complete tuberculosis tests. They helped them move into an apartment (which the IRC sponsors until new arrivals find work), and took them to apply for public benefits. Later, the IRC acted as Gebre's guardian so he could enroll in L.A.'s Belmont High School.
"There was no way anybody of my status could survive all of that without the IRC being there," Gebre says.
The IRC continued to act as a lifeline for Gebre in coming years, helping him reconnect with his family in Ethiopia. "I sponsored my mom to come to the U.S.," he says, "and I did that through the IRC."
Gebre went on to attend California State Polytechnic University on a scholarship. During his sophomore year, he took a night job loading UPS trucks so he could send money to friends still in Sudan. There he joined his first union—the Teamsters —another turning point in his life.
"The fact that someone was looking after me, that there were real work rules—that I knew what my responsibilities were and what my company's responsibilities were—I thought everybody should have that," Gebre says. "Ever since, I have really committed myself to advancing that cause."
While attending graduate school at the University of Southern California, Gebre became a legislative aide for Willie Brown Jr., speaker of the California State Assembly. He then embraced an even bigger challenge—to become the executive director of the Orange County Labor Federation.
"I did that because Orange County is the most conservative part of the state," he says. "As a skinny Ethiopian refugee, I wanted to prove myself by organizing Orange County. And I did."
—
Join the conversation on Twitter and Facebook.