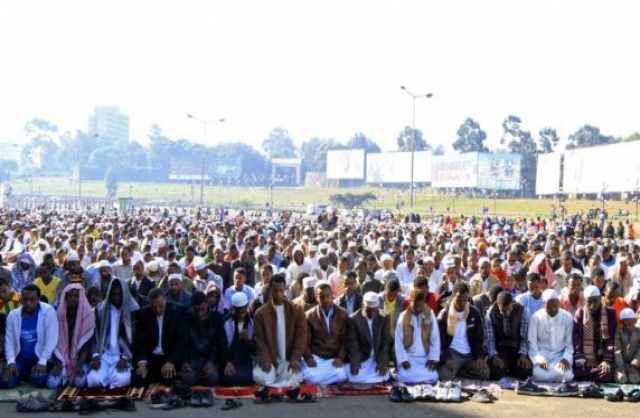 Tadias Magazine
By Dagnachew Teklu

Updated: Friday, August 30th, 2013
Washington DC (TADIAS) – Two rallies to counter the ongoing Muslim protests in Ethiopia are being organized this weekend in Addis Ababa. The public gatherings — one sponsored by the government and the other by the opposition Semayawi (Blue) party — are scheduled to take place at the same time at Meskel Square on Sunday, albeit with differing views on the controversial matter.
The government is urging Addis Ababa residents to show up in big numbers on Sunday to denounce what it calls the "growing Muslim extremism" in the country, while Semayawi party leaders say they want to use the occasion to bring up the related subjects of "jailed religious and political leaders" as well as an end to "government interference" in mosque and church affairs.
The state sponsored demonstration is organized by a national faith council that, in comparison to the opposition, enjoys unlimited media access via TV and radio stations. Addis Ababa city administration has declared the Blue party's plans "illegal." But Yilkal Getnet, head of Semayawi, said the decision to bar the party from holding its own demonstration is without sound legal basis.
"There is no such thing as legal and illegal protest" Yilkal argued. "What we are required to do by law is to inform the concerned office about the planned demonstration." He said: "Our party did that a month ago. Now, we are awaiting for Sunday to march."
Tadias has learned that the police commission has contacted representatives of the Blue party for a meeting on Friday to discuss "security issues." Sources state that police met with opposition leaders this morning to convince them to postpone their public gathering, but the discussion ended without coming to an agreement. Yilkal indicated that the Blue party is "fully prepared" to hold the protest.
—
Related:
Update: More Than 100 Blue Party Leaders Arrested Ahead of Ethiopia Sunday Rally
Join the conversation on Twitter and Facebook