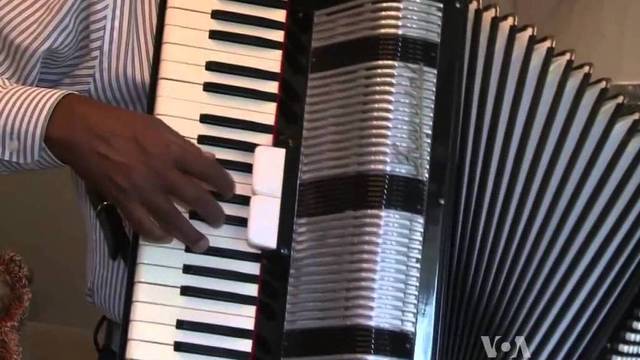 BY Deborah Block
WASHINGTON — One of the most popular keyboardists in Ethiopia is now working as a taxi driver in Washington, D.C. In the 1970s, Hailu Mergia performed with a famous band in Ethiopia. In 1981, he toured the United States with that band and then settled in Washington. But he kept his name and music alive in Ethiopian communities worldwide by producing his own recordings. Now one of those cassettes, from nearly 30 years ago, has been reissued after it was discovered in a music store in Ethiopia.
Mergia plays music from his 1985 reissued cassette, titled Mergia and his Classical Instrument, as he waits for customers at Dulles International Airport, located outside Washington. He said his Ethiopian customers get excited when they realize who he is.
"When I tell them my name, then they recognize my name, and then they say 'Are you Hailu Mergia, then they tell me how they appreciate my music," he said, beaming with pride. "Most of them ask me 'Why do you drive a taxi,' so I tell them the same answer, 'Look, I just have to make money.'"
Mergia is mostly self-taught. In his younger days, he played in restaurants and bars in Ethiopia and found fame in the 1970s playing with the jazz and soul Walias Band.
"We were playing very modern music, so we were very popular at that time," he explained.
For about 20 years in Washington, Mergia made money playing with another band and managing a nightclub. When those jobs ended, he became a taxi driver. But he never let go of his music and has produced a dozen cassettes and a CD over his professional career.
"I just like to play original music. I just play typical Ethiopian music," he said.
Typical perhaps, but also unique. Mergia added new sounds to his 1985 cassette like the Moog synthesizer and drum machine which he mixes with traditional acoustic Ethiopian music. He also added the accordion which had not been heard in Ethiopian music for years.
Mergia's style appealed to Brian Shimkovitz, founder of a small record label called Awesome Tapes from Africa. While visiting a music store in Ethiopia, he thought this particular cassette stood out and wanted to reissue it.
Mergia was surprised when he got the call.
"My question was, 'How did you get it? Where did you get it?' I was excited," he admitted.
Shimkovitz thought Mergia's sound would have wide appeal.
"There's also tons of Ethiopians all over the world who would remember this music and would love to hear it again," he remarked. "I think the music touches on jazz and rock and experimental music but, of course, also classic Ethiopian music."
Mergia thinks the younger generation would also enjoy it.
"I chose the melody that can fit for accordion. They like it because they don't have that kind of sound," he explained.
Today, Mergia is likely to collect even more fans since Shimkovitz has released his music in different formats that make it available to access on the Internet.
"It's being marketed in every continent and in record stores of all different kinds," he said.
At age 67, Mergia is hoping to reinvent his career. He is traveling to Europe in November where he will tour with other musicians to showcase his distinctive style.
Watch: Ethiopian Taxi Driver, Keyboardist Reinvents Music Career

–
Read more Arts and Entertainment news at VOA.
Join the conversation on Twitter and Facebook