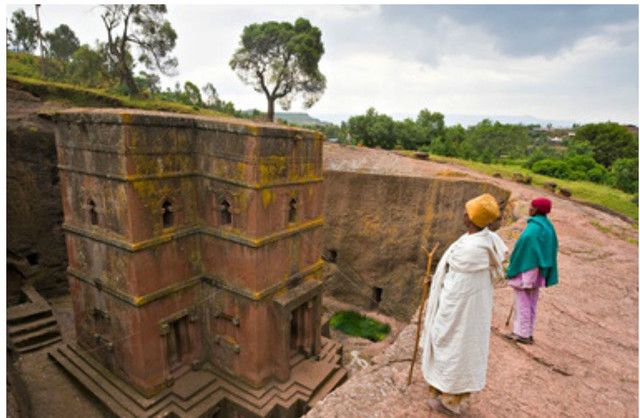 David Smith
Monday 1 September 2014
Lalibela – Kiya Gezahegne joined an unruly, jostling throng surrounding a priest who wielded a 12th-century gold and bronze cross, one of the most sacred artefacts in Ethiopia. A young man shut his eyes and trembled from head to toe as he was blessed. Finally, Gezahegne stepped forward and stooped so the priest could tap the cross all over her body. "I felt close to God," she said.
Steeped in ancient ritual, this was the scene revealed by dawn's first light in the rock-hewn churches of Lalibela. The cool morning air was filled with the smell of incense and the drumbeat and chanting of hundreds of pilgrims swathed in white robes, some kissing the walls. A sprinkling of foreign visitors groped through narrow crevices and labyrinthine tunnels. Earlier this year they included George W Bush and family and Evgeny Lebedev, the newspaper proprietor.
Lalibela – described by Hilary Bradt, the travel guide author, as "the number one sight in Ethiopia and perhaps the most astonishing man-made site in sub-Saharan Africa" – is crucial to a drive by officials to banish images of famine and conflict, and turn the east African country into a fashionable destination. A "tourism master plan" is being finalised to boost visitor numbers, which are already growing by 10% a year.
Gezahegne, 22, an academic at Addis Ababa University, was making her first pilgrimage to Lalibela one recent Sunday and was in no doubt about its potential to attract Christians and non-believers alike. "Most people know about the famine but not the historic sites," she said. "If the tourism bureau can advertise it, it can be a good source of income."

—
Related:
Lalibela One of The Top 50 Cities to See in Your Lifetime
Ethiopia's Lalibela Among 19 Most Stunning Sacred Places in the World
Join the conversation on Twitter and Facebook.