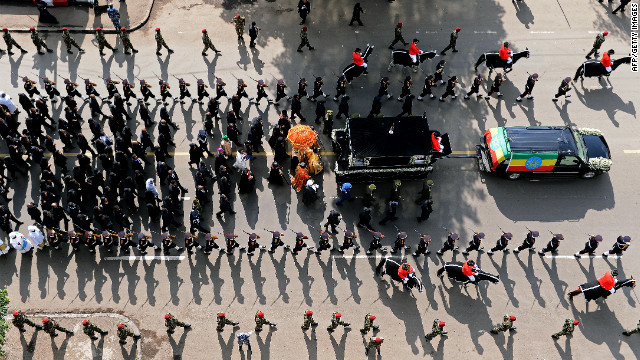 Gabe Joselow
September 02, 2012
ADDIS ABABA — Ethiopia has laid to rest Prime Minister Meles Zenawi who led the country for more than 20 years before his death, announced last month. Heads of state from around the continent praised Meles' intellect and his vision for his country and Africa.
Ethiopian soldiers stood in formation as the flag-draped casket carrying the body of Meles was carried into Meskel Square in downtown Addis Ababa.
Thousands of Ethiopians gathered to pay their respects to the late prime minister, who was credited with bringing economic development to the country during his many years in power. Foreign dignitaries, including heads of state from across Africa also attended the ceremony.
Former South African President Thabo Mbeki praised Meles for his commitment to his country and the continent.
"We too, your fellow Africans, are here to join you to pay tribute to Meles Zenawi and to convey to you our sincere condolences of the loss to you of a great architect of a new Ethiopia, and to us who come from outside the borders of this country, the loss of a great architect of a new Africa of which a billion Africans dream," said Mbeki.
While many African leaders credited Meles for his single-minded dedication to development, he was often criticized in the West for stifling the opposition and putting economic success ahead of human rights.
Rwandan President Paul Kagame said the prime minister was misunderstood by critics because he was ahead of his time.
"Where some would have been compromised for short-term profit or gains, or easily succumbed to pressures, he was steadfast and always took a definite stand on issues of right and wrong and more often than not, he was on the side of right," he said.
​​​​The U.S. Ambassador to the United Nations, Susan Rice, said she enjoyed a close relationship with Meles. Rice praised him for what she called his "world-class mind," but said they sometimes "profoundly disagreed" on issues including human rights and foreign policy.
She said as the United States will continue to work with Ethiopia to help develop the country's institutions.
"As always, we will encourage peaceful political dialogue, civil society development and protection of human rights, including freedom of the press," said Rice.
Meles' deputy, Hailemariam Desalegn has taken over the powers of the prime minister's office and is due to be sworn in after the funeral. He says he plans to continue on the path of development started by his predecessor.
"Today we are prospering because of the vision and guidance of Meles Zenawi," he said. "He paved the road for prosperity and peace that we are committed to follow."
After the ceremony, Meles' casket was carried to the Holy Trinity Cathedral, where he was buried next to other prominent leaders of Ethiopia, including former Emperor Haile Selassie.
A 21-gun salute marked the end of the ceremony, and a long and transformative political era in Ethiopia.
—
Related:
Thousands of Ethiopians attend Meles Zenawi burial (BBC)
Meles Mourned in Ethiopia as Ruling Party Names Successor (Bloomberg News)
Ethiopians, Heads of State Pay Respects at Meles Funeral (Reuters)
Prime Minister Meles Zenawi Praised at Funeral as Visionary for Africa (AP)
—-
Ethiopia Gives PM Meles Zenawi State Funeral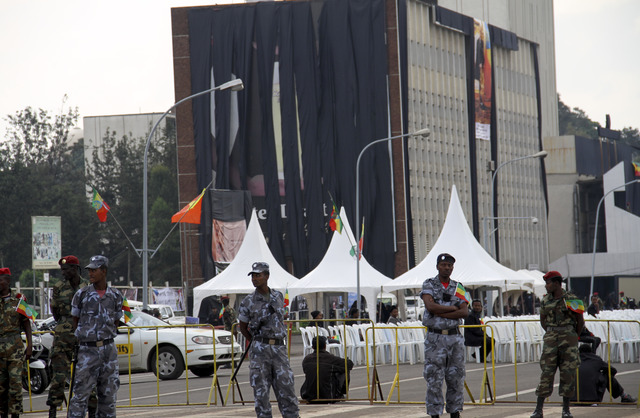 The state funeral on Sunday in Addis Ababa for the late PM Meles Zenawi was attended by hundreds of dignitaries from around the world, including several African leaders. (Photo by Marie Claire Andrea for TADIAS)
By KIRUBEL TADESSE, Associated Press
Updated: Sunday September 2, 2012
ADDIS ABABA, Ethiopia (AP) — Thousands of mourners gathered near a public square in Ethiopia's capital on Sunday to pay their final respects to Prime Minister Meles Zenawi, who was praised for lifting many out of poverty but vilified by some for restricting freedoms.
Meles, who ruled for 21 years, died Aug. 20 of an undisclosed illness in a Belgian hospital. He was 57. During his rule Ethiopia was a strong U.S. ally on counter-terrorism issues, particularly in Somalia, and some saw him as Africa's intellectual leader in efforts to fight poverty.
Ethiopian officials said the state funeral in Addis Ababa was attended by hundreds of dignitaries from around the world, including several African leaders.
Photos: Nation Pays Final Respect to Late Prime Minister Meles Zenawi (TADIAS)
—
Ethiopia Holds First State Funeral in Over 80 Years
Gabe Joselow | VOA News
September 01, 2012
ADDIS ABABA — ADDIS ABABA — Ethiopia's longtime leader Meles Zenawi will be buried Sunday in a state funeral in Addis Ababa, nearly two weeks after the government announced he had died from an undisclosed illness. Gabe Joselow reports from the capital, Ethiopians have traveled from across the country in a show of national mourning for the influential and divisive prime minister.
The men and women standing in line take turns have been expressing their grief at the passing of Meles who led the country for the past two decades.
Addis Ababa is decorated with posters, banners and t-shirts bearing the late prime minister's image. State television stations have been running programs honoring Meles non-stop since his death was announced, while bars and restaurants have been asked not to play any music during this period of mourning.
Ethiopian Foreign Ministry Spokesman Dina Mufti says the outpouring of grief shows how deeply the nation has been affected.
"Everybody in the nation, every national, every Ethiopian, rich, poor, women, men, young, old – everybody's grieving, everybody's mourning," said Mufti.
Dina says in addition to the official ceremony, which begins Sunday at downtown Meskel Square, there will be eight other events around the capital, and at least as many in other parts of the country.
Dignitaries including Rwandan President Paul Kagame, Ugandan President Yoweri Museveni and former South African President Thabo Mbeki are expected to speak at the funeral.
Meles's casket will be taken to the Trinity Orthodox Church, where it will be buried alongside other prominent Ethiopian leaders, including former emperor Haile Selassie.
Independent analyst Medhane Tadesse told said many people did not expect such a large ceremony, but says it fits his political stature.
"I think they want to give him the necessary tribute that really is at par with his role internationally and on the African stage," said Tadesse. "Probably this is the grandest funeral politically in Africa so I think they want to make that point."
Tadesse says the country's leaders may also have a political incentive.
"Beyond that there could be issues of legitimacy of continuity and cementing his legacy and his name would also help the ruling party and Ethiopia's newly emerging leaders to use it as a launching pad for whatever political projects," Tadesse added.
Meles is to be succeeded by Deputy Prime Minister Hailemariam Desalegn who has yet to be sworn in.
Rights groups have urged the country's next leader to do more to improve the country's human rights record, such as lifting harsh restrictions on freedom of expression put in place during the former prime minister's time in office.
———
In Ethiopia, a nation comes to bury Meles – and to praise him (CSM)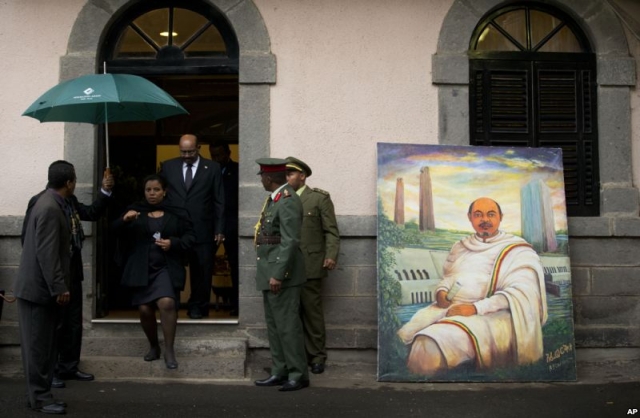 Sudan's President Omar al-Bashir, in doorway, walks past a portrait of late Ethiopian Prime Minister Meles Zenawi, a gift from another delegation, as he arrives to pay his respects to Meles' body lying in state at the national palace in Addis Ababa, Ethiopia. (AP)
ADDIS ABABA, ETHIOPIA
Over the past week, in near silence, two endless columns of Ethiopians draped in black have shuffled through the grounds of the national palace before pausing beneath a coffin covered by the flag and breaking into wails and sobs.
The masses in Africa's second-most populous nation are coming to mourn and pay respect to former Prime Minister Meles Zenawi, the nation's formidable leader of 21 years who died of illness on Aug. 20.
President Obama Names U.S. Delegation to attend the State Funeral of PM Meles Zenawi (WH)
White House Press Release
President Barack Obama today announced the designation of a Presidential Delegation to the Federal Democratic Republic of Ethiopia to attend the State Funeral of His Excellency Meles Zenawi, Prime Minister of the Federal Democratic Republic of Ethiopia.
The Honorable Susan E. Rice, United States Permanent Representative to the United Nations, will lead the delegation on September 2, 2012.
Members of the Presidential Delegation:
The Honorable Donald Booth, United States Ambassador to the Federal Democratic Republic of Ethiopia
The Honorable Johnnie Carson, Assistant Secretary of State for African Affairs
Ms. Gayle Smith, Special Assistant to the President and Senior Director, National Security Staff
—
Ethiopia Prepares First State Funeral in over 80 yrs (AFP)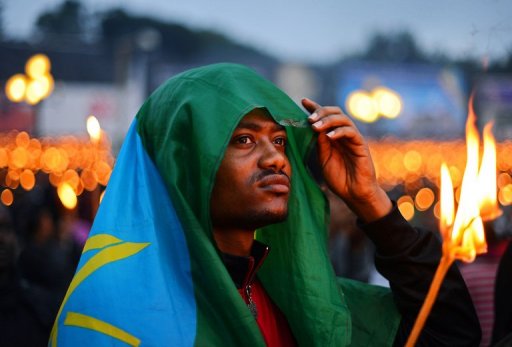 PM Meles died last month of an unknown illness after a mysterious, two month
disappearance from public view (AFP)
ADDIS ABABA — Ethiopia has had a long line of leaders dying in secret, hidden behind closed doors, but not a long history of funerals.
In 1913, one of Ethiopia's most renowned emperors, Menelik II, died. His death remained a secret until 1916 when officials finally announced that he had succumbed to a stroke years earlier.
Haile Selassie, Ethiopia's last emperor, officially died of natural causes in 1975, but is widely believed to have been murdered by the brutal regime of Mengistu Hailemariam, suffocated and buried under a toilet.
Last month, Ethiopian Prime Minister Meles Zenawi died of an unknown illness after a mysterious, two month-long disappearance from public view, and will be buried on Sunday in the first state funeral for a leader in over 80 years.
Continue reading at AFP.
–
Related
Ethiopia Readies State Funeral for PM Meles Zenawi (AFP)
Photo Blog: Ethiopians Pay Respect to Late PM Meles Zenawi, 1955-2012 (NBC News)
—-
The Mixed Legacy of Meles Zenawi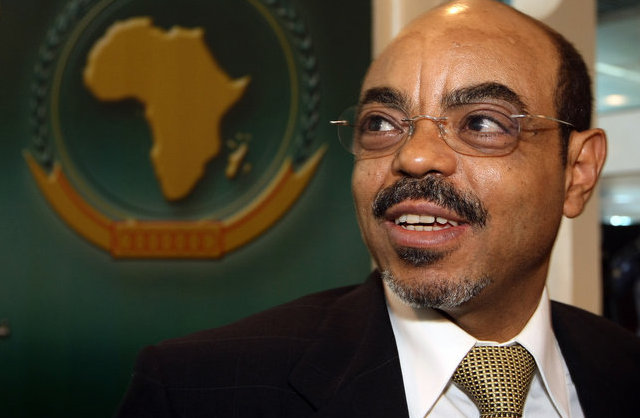 Meles Zenawi, the late Prime Minster of Ethiopia. (Getty Images)
Meles Zenawi always said he didn't intend to die in office. Speaking to TIME as long ago as 2007, the Ethiopian Prime Minister was talking about moving on: "I have been around for quite a long time," he said. "Time to start thinking about doing new things." In the event, Meles did not do anything else but stayed through another election in 2010 – rigged, said the U.S., E.U and human rights groups – in which his Ethiopian People's Revolutionary Democratic Front (EPRDF) and its allies won 545 of the 547 seats in parliament and 1,903 of the 1,904 on nine regional councils. The result was not surprising but was at least less bloody than the previous poll in 2005 when Ethiopian security services shot dead 200 protesters – more like 1,000, said the opposition – who were demonstrating against the ERPDF's victory in the streets of the capital Addis Ababa. Meles's version of events was that the opposition, having lost a free and fair vote, were trying to win power by other means. "We felt we had to clamp down," he said. "In the process, many people died. Many of our friends feel we overreacted. We feel we did not." Still, though rights groups, opposition politicos and journalists he persecuted are understandably loathe to admit it, there was more to Meles Zenawi than a stereotypical African strongman.
Continue reading at TIME.com.
—-
The Late PM Meles Zenawi (AP)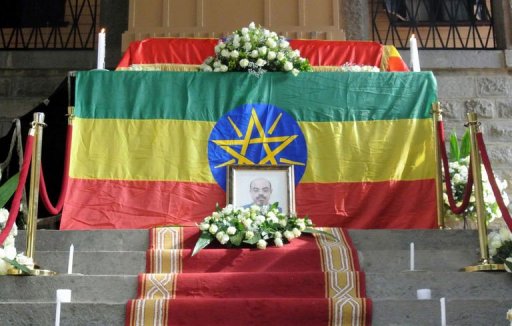 Thousands of people have been to view Meles's casket, draped in the Ethiopian flag
(Getty Images)
By Associated Press
ADDIS ABABA, Ethiopia — Ethiopia's Prime Minister Meles Zenawi, who died of an unknown illness earlier this week, will be buried on Sept. 2, the government spokesman said Thursday.
The government had postponed an emergency session of parliament to swear in a new prime minister as many leaders attended the funeral of a church leader.
Acting Prime Minister Hailemariam Desalegn was to be sworn in Thursday following Zenawi's death on Monday.
Bereket Simon, Ethiopia's communications minister said the country had "ample time" to swear in the new prime minister. He said Meles will be buried in the capital Addis Ababa
"There is no need to rush into it when the nation is grieving," Bereket said. "What all the lawmakers and their constituencies and the nation at large want to do at this time is mourn the great loss and honor the late prime minister. We want to first honor this and handle the prime minister's funeral with due diligence."
"The succession is already completed, and Hailemariam will take over as a prime minister," Bereket said.
Bereket also said the death of Abune Paulos, the head of the Ethiopian Orthodox Church, was another reason for the delay. Hailemariam attended and spoke at the Thursday funeral.
Leaders from around the world are expected to attend Meles's funeral. Meles who ruled Ethiopia for 21 year, died in a Belgium hospital late Monday from an illness that Ethiopian officials have not revealed.
Hailemariam is a relatively young figure on Ethiopia's political scene and it's not clear if old guard leaders will allow him to hold onto the prime minister's seat until 2015 elections.
Ethiopia is a strong U.S. ally on counter-terrorism issues, particularly in Somalia. Meles was hailed for advancing Ethiopia's economic progress but was denounced by human rights groups for a heavy handed approach to political dissent.
—
Copyright 2012 The Associated Press. All rights reserved.
–
Related:
Life in pictures: Ethiopia's Meles Zenawi (BBC)
—-
August 21, 2012
Ethiopian Prime Minister Meles Zenawi has died at the age of 57, after months of speculation about his health.
State television announced his death Tuesday, saying he died from a sudden infection late Monday at a hospital abroad.
Speaking with VOA Somali Service, government spokesman Bereket Simon would not say where Meles died, or disclose the illness that led to his hospitalization.
"The prime minister had been sick for quite a while," he said. "And he was attending medical support in, somewhere in, ah, abroad. And he had some chance in recuperating. But ultimately some infection happened to him and doctors couldn't control that infection."
Meles had not been seen in public for nearly two months before his death.
Spokesman Bereket said Deputy Prime Minister Hailemariam Desalegn will serve as acting prime minister.
He said Meles' body will arrive Tuesday in Ethiopia, and officials are making plans for the funeral.
Meles earned praise abroad for improvements in the economy, education and health care. But human rights groups sharply criticized him for various abuses, including restrictions on independent media.
Under Meles, Ethiopia fought a border war with Eritrea and sent troops to Somalia to fight Islamist militants.
Ethiopia and Eritrea fought from 1998 to 2000 in a conflict that killed more than 70,000 people. Tension between the two countries remained high.
Meles was also known as an ally to the United States against terrorism.
In 2006, Ethiopian troops entered Somalia to fight Islamist militants allegedly armed and trained by the Eritrean government. Ethiopian forces returned to Somalia last year in a multi-nation offensive against militant group al-Shabab.
Meles' most serious political challenge came in the 2005 elections, when opposition parties said the government rigged to results to cheat them of victory. Nearly 200 people died in post-election violence and protests.
In the most recent elections in 2010, the EPRDF and its allies took all but one seat in parliament, sparking new accusations of fraud.
The criticism increased in recent years as Ethiopian courts jailed journalists and political activists under an anti-terrorism law that rights groups said was overly vague and broad.
Meles was born in the northern Ethiopian town of Adwa in 1955. He attended Addis Ababa University for two years before joining the Tigrayan Peoples' Liberation Front, or TPLF, one of several groups that was fighting the government of Mengistu Hailemariam. The TPLF later became the core group within the EPRDF.
After taking power in 1991, Meles served as president for four years before assuming the prime minister's post in 1995.
—
Related:
Ethiopian PM Meles Zenawi Dies After Illness (BBC)
Ethiopia in Flux After Leader Dies (The Wall Street Journal)