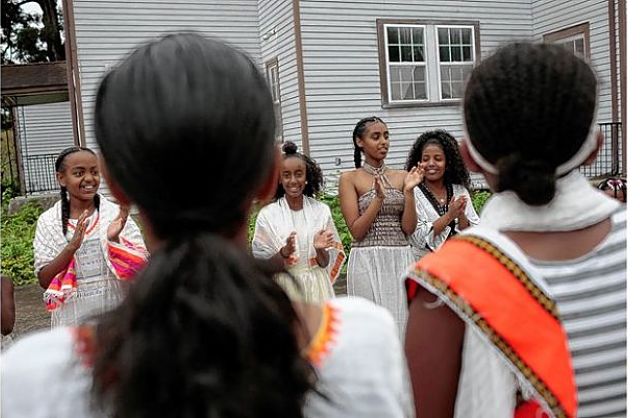 The welcome mat is out.
When the New Americans Festival takes place from noon to 5 p.m. Saturday, Sept. 10, at the North YMCA, 1640 Sandalwood Place, it will be as much a chance for "old Americans" to meet and greet their new neighbors as it will be for members of the many refugee and immigrant populations in central Ohio to showcase their cultures and backgrounds.
"This is our focus this year, to really get the American-born population out and dispel some myths about immigrants and refugees," said Laura Berger, director for development for Ethiopian Tewahedo Social Services, the host organization for the event.
"It's through learning about your neighbor that we can come together and appreciate one another," said Nadia Kasvin of US Together, a mutual-assistance agency she co-founded in 2003 that works to resettle immigrants.
"In our mission statement, the last two words are 'for all,' " said Malik Wayne More, director of social responsibility for the YMCA of Central Ohio. "We know that if we're not taking intentional efforts to welcome our newest Americans, then we're probably not being 'for all.' "
The New American Festival fills a cultural need for refugee and immigrant communities, according to the website of Ethiopian Tewahedo Social Services, a nonprofit that assists this population.
According to the organization, learning a new language and culture and establishing a new life in the United States puts pressure on immigrants to assimilate, which puts them at risk of losing the traditions and cultures of their homelands. The New Americans Festival offers an opportunity to share these cultures with others.

Video: Members rehearse dance Aug. 31 in Columbus, preparing to perform at this year's New Americans International Festival
Read more at Thisweeknews.com »
—
Related:
This is What America Looks Like: Tefere Gebre, VP of AFL-CIO, Helps Immigrants to Vote
Tefere Gebre: Don't tell me I'm not American – The True story of my journey from Ethiopia to the U.S.
Join the conversation on Twitter and Facebook.