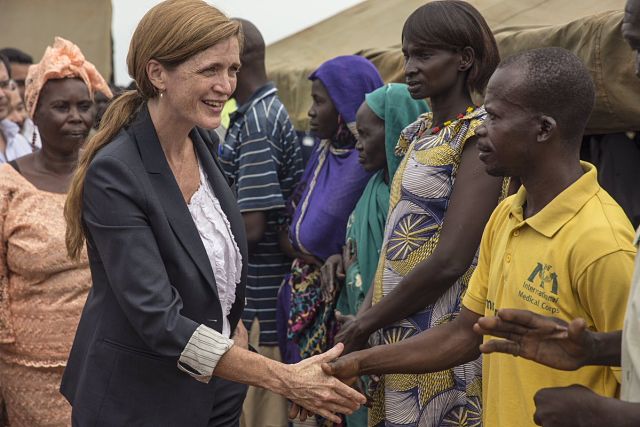 JUBA, South Sudan – The U.S. ambassador to the United Nations says her country has raised "grave concerns" about what it calls excessive use of force against protesters in Ethiopia.
Ambassador Samantha Power spoke to reporters late Sunday as the U.N. Security Council ended a visit to South Sudan. It moves on to Ethiopia on Monday for talks with African Union officials.
Power called the violence in Ethiopia "extremely serious" and called for a transparent and independent investigation. She said the U.S. has asked the government to allow people to protest peacefully.
Ethiopia has seen months of sometimes deadly protests calling for wider freedoms, while the government has been accused of killings, beatings and internet blockages.
The AU last week for the first time expressed concern about the recent unrest in its host country.
—
Related:
Ethiopia's Failing Ethnic-based Political System (Foreign Affairs Magazine)
Washington Post Editorial on Current Wave of Protests in Ethiopia
'A Generation Is Protesting' in Ethiopia, Long a U.S. Ally (The New York Times)

Protesters have been complaining about economic and political marginalization . (Photos: Reuters)
UPDATE: 'Nearly 100 killed' in Ethiopia Protests (BBC News)
Several dozen shot dead in weekend protests across Ethiopia (AP)
In Addis Ababa Security Forces Use Tear Gas to Disperse Protests (Reuters)
What is behind Ethiopia's wave of protests? (BBC News)
Protests in Ethiopia's Gonder City Signal Uncertain Future (VOA News)
Protest in North Ethiopian Region Signals Rising Discontent (Bloomberg)
Riots in Gonder Claim Casualties (DW Report — Jul 15, 2016)
Join the conversation on Twitter and Facebook.