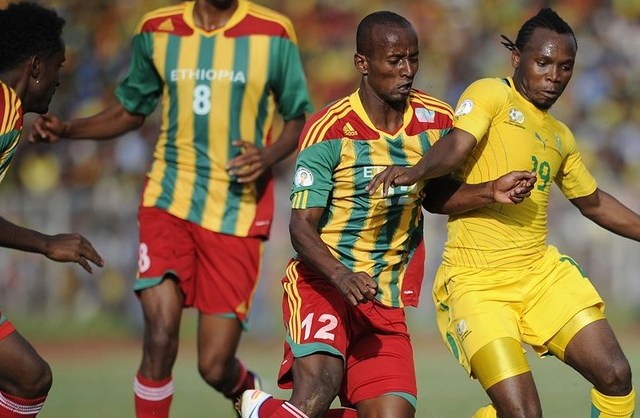 JOHANNESBURG — Giantkillers Ethiopia were drawn against Nigeria Monday in the 2014 World Cup Africa zone play-offs.
Ivory Coast face Senegal, Tunisia meet Cameroon, Ghana tackle Egypt and Burkina Faso play Algeria in the other ties created by a draw in Cairo.
The two-leg showdowns are set for October and November and the winners qualify for the World Cup in Brazil next June and July.
Ethiopia were the only side to upset the seeding in the mini-league previous stage, finishing two points ahead of top-ranked South Africa.
But they will face much tougher opponents in Nigeria, who beat Ethiopia 2-0 en route to winning the Africa Cup of Nations in South Africa last February.
While the 'Super Eagles' use a mix of local and Europe-based stars, the bulk of the 'Walias Antelopes' squad is home based.
Read more at AFP.
—
Ethiopia Secures Place in African play-offs for the 2014 World Cup
By Nick Cavell
Burkina Faso, Ethiopia and Ghana secured themselves places in African play-offs for the 2014 World Cup.
Ethiopia were one of several sides during Africa's World Cup qualifying campaign who had results overturned by Fifa for using ineligible players.
There was a touch of irony in the fact that Ethiopia's winning goal in a their 2-1 victory over Central African Republic in Group A was scored by Minyahil Teshome Beyene.
He was the man who lead to his side being docked points in July.
There was also drama in Group E as Burkina Faso claimed top spot ahead of Congo Brazzaville.
Congo were held to a 2-2 draw in Niger which allowed Burkina Faso to move ahead of them thanks to a 1-0 win over visiting Gabon.
Read more at BBC News.
—
Related:
Ethiopia advance in World Cup, S. Africa out (AFP/Fox News)
Join the conversation on Twitter and Facebook