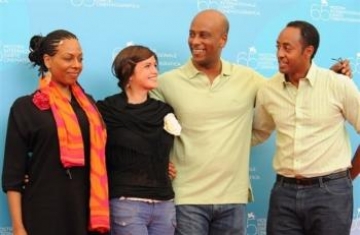 Above: Actors (from left) Evelyn Arthur Johnson, Veronika
Avraham, Aaron Arefe and Abeye Tedla (
From official Venezia 65 Awards)
By Tadias Staff
Sunday, September 7, 2008
New York (Tadias) – Director Haile Gerima's new film,Teza, has won OSELLA for Best Screenplay and Special Jury Prize at the 65th Venice Film Festival, which concluded on Saturday, September 6th at an awards ceremony hosted by Ksenia Rappoport. The Golden Lion for Best Film went to The Wrestler by Darren Aronofsky.
From official Venezia 65 Awards
The Venezia 65 Jury, chaired by Wim Wenders and comprised of Juriy Arabov, Valeria Golino, Douglas Gordon, Lucrecia Martel, John Landis, and Johnnie To, having viewed all twenty-one films in competition, has decided as follows:
GOLDEN LION for Best Film:
The Wrestler by Darren Aronofsky (USA)
SILVER LION for Best Director to:
Aleksey German Jr. for Bumažnyj Soldat (Paper Soldier) (Russia)
SPECIAL JURY PRIZE to:
Teza by Haile Gerima (Ethiopia, Germany, France)
COPPA VOLPI for Best Actor:
Silvio Orlando for Il papà di Giovanna by Pupi Avati (Italy)
COPPA VOLPI for Best Actress:
Dominique Blanc for L'autre by Patrick Mario Bernard and Pierre Trividic (France)
MARCELLO MASTROIANNI AWARD for Best Young Actor or Actress:
Jennifer Lawrence for The Burning Plain by Guillermo Arriaga (USA)
OSELLA for Best Cinematography to:
Alisher Khamidhodjaev and Maxim Drozdov for Bumažnyj Soldat (Paper Soldier) by Aleksey German Jr. (Russia)
OSELLA for Best Screenplay to:
Haile Gerima for Teza by Haile Gerima (Ethiopia, Germany, France)
Haile Gerima's "Teza' Revisits Ethiopia Under Mengistu at Venice Filmfest (AFP)
September 2nd, 2008
VENICE, Italy (AFP) — Mengistu's blood-drenched Ethiopia was the backdrop in Venice on Tuesday for filmmaker Haile Gerima's "Teza," his attempt to reconcile an idyllic childhood with modern realities.
"I dream my past, but the present is so powerful that it continues to hijack my sentimental journey to my childhood," Gerima told a news conference.
In the film, Aron Arefe plays Anberber, an idealistic Ethiopian intellectual who studies medicine in Germany, then returns to his home village under Haile Mariam Mengistu's brutal 1970s-80s regime.
Unable to put his expertise to good use, Anberber also faces an identity crisis arising from his "displacement between the village and the modern world," said Gerima, who won a lifetime achievement award at the Washington Independent Film Festival in 2003.
"Contemporary reality continues to interfere, with silent violence as well as obvious violence," he added.
A central challenge was harnessing the wealth inherited from generations of oral tradition, Gerima said, calling handed-down stories "our monuments."
"My grandmother told stories around the fire. My father was a playwright. How do you reconcile that tradition with filmmaking? How is the form culminating my personal identity?" he asked.
"Teza" is one of two African films in the selection of 21 vying for the coveted Golden Lion here, along with "Gabbla" by Algeria's Tariq Teguia, set in the north African country as it emerged from its civil war of the 1990s. Read More.