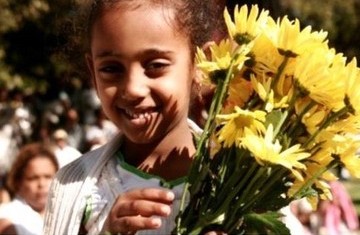 Tadias Magazine
Events News
Published: Monday, September 7, 2009
New York (TADIAS) – As Ethiopians prepare to usher in the year 2002 later this week, official ceremonies are scheduled to mark the holiday in San Jose, California, and DeKalb County, Georgia.
According to a press release by the Ethiopian Americans Council (EAC), the fifth annual Ethiopian flag raising ceremony will take place in San Jose on Tuesday, September 8, 2009. The Mayor, Vice Mayor, and several City Council members are expected to attend.
In honor of the Ethiopian-American community in Georgia, the DeKalb county government CEO Burrell Ellis has declared September 13, 2009 to be "Ethiopian Day," and this year's celebration will include a soccer tournament as well as cultural celebrations.
Ethiopians inaugurated the third millennium in September 2007, the Ethiopian calendar being seven years behind the Gregorian calendar.
Happy New Year from all of us at Tadias!
If you go:
San Jose, California
When: Tuesday Sep. 8th 2009
Time: 12:00 (Noon)
Place: 200 E Santa Clara Street Next to front water feature by the poles.
Clarkston, Georgia
Third Annual "Ethiopian Day" Fest
September 13, 2009
James Hallford Stadium
3789 Memorial College Avenue
Clarkston, GA 30021
Noon to Evening
New York, New York
Ethiopian New Year Celebrations
Featuring Gosye Tesfaye & Efrem Tameru
September 11, 2009
SOB's (204 Varick Street @ W. Houston)
Door Opens at 11 and Show starts @ Midnight
$30 In advance
More info @ 212 243 4940 or 201 220 3442
Join the conversation on Twitter and Facebook.