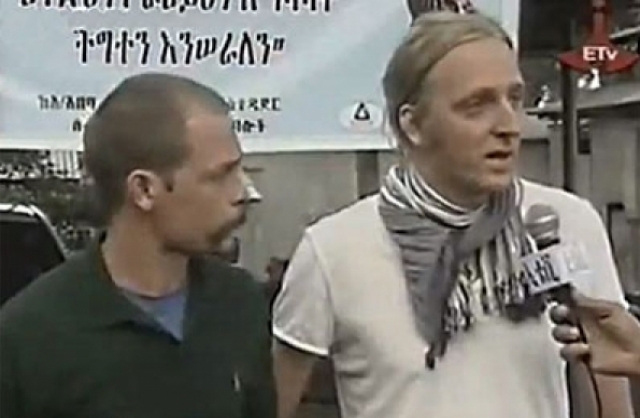 STOCKHOLM (AP) — Back home after being imprisoned in Ethiopia for more than a year, two Swedish journalists on Friday dismissed their trial on terror charges as a "sham," saying they accepted 11-year prison terms to improve their chances of being released.
Martin Schibbye and Johan Persson also said in a news conference that their apology on Ethiopian TV in connection with their release last week was not sincere. Continue reading at AP.
Govt Should Release Journalists Still in Prison (CPJ)
Nairobi — The Committee to Protect Journalists today called on the Ethiopian government to set free six journalists in prison for their work, a day after Swedish journalists Johan Persson and Martin Schibbye were pardoned and released from Kality Prison in the capital Addis Ababa. Continue reading at CPJ.
Ethiopia Pardons 1900 Prisoners Including Swedish Journalists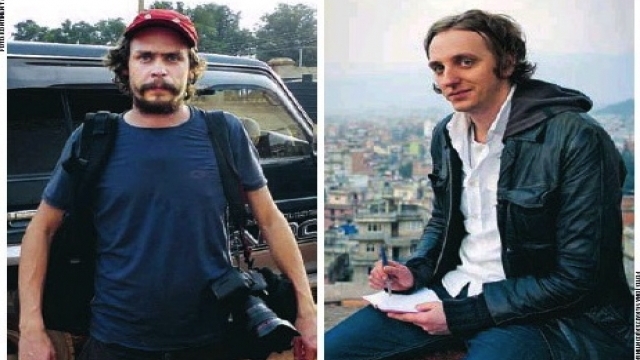 The two Swedish journalists, photographer Johan Persson and reporter Martin Schibbye, were serving 11-year sentences in Ethiopia. (Photo: AFP)
Ethiopia Pardons Jailed Swedish Journalists (VOA News)
By Ricci Shryock
The Ethiopian government will release two imprisoned Swedish journalists, as part of an annual mass amnesty to mark Ethiopia's New Year. Some 1900 prisoners are part of an official pardon granted by the late Prime Minister Meles Zenawi.
The journalists, Johan Persson and Martin Schibbye, were convicted of supporting an illegal terrorist group and crossing the border without proper documentation. They were sentenced to 11 years in prison.
The New York-based Committee to Protect Journalists, welcomed the decision.
"We still believe that they should never have been jailed, because they were carrying out legitimate news-gathering activities," Mohamed Keita, the group's Africa Advocacy Coordinator said on Monday.
He added that the journalists were forced to admit to guilt in order to receive the pardon, though the terrorism charges were "a crime they did not commit."
"They [the journalists] took the risk of entering the country illegally only because of the Ethiopian government's restrictions and censorship banning independent media access to the Ogaden, and these are practices that reporters and news organizations the world over engage in to cover both sides of the story.
There are serious allegations of abuses in the Ogaden that the Ethiopian government denies, but it is not providing an opportunity for international or local media to independently report or investigate," he said.
Keita said CPJ hopes the country will use the opportunity of Mr. Meles' death to loosen what he says are restrictions on journalists operating in Ethiopia.
"We believe they have an opportunity to usher in national reconciliation," he said, "and to turn the page. And they have an opportunity to do so by releasing the six other journalists behind bars."
In July, prominent journalist and blogger Eskinder Nega was jailed for 18 years for what the government said was breaching anti-terror laws, while Andualem Arage, a member of the Unity for Democracy and Justice Party, was given a life term in prison.
—
Related News from VOA:
Swedish FM: Ethiopia Promised Journalists' Pardon in May (Voice of America)
—
Tadias Magazine
News Update
Published: Monday, September 10, 2012
Ethiopia has granted clemency to two Swedish journalists convicted last year under the country's anti-terrorism law.
"Some 1,900 prisoners have been pardoned and are scheduled to be released in the coming days. The Swedish journalists are part of the group," a source told Reuters.
Reporter Martin Schibbye and photographer Johan Persson were accused of supporting a terrorist group and also charged with immigration violations. They were arrested in July 2011 after being caught with fighters from an Ogaden National Liberation Front. They had pleaded not guilty to the terror charges, but admitted entering the country illegally from Somalia.
The reporters maintain their investigation was focused on Sweden's Lundin Petroleum and an oil company in Ethiopia that bought licences from Lundin in 2009 to operate in Ethiopia's rebellious Ogaden region.
According to AP: "The decision to pardon photographer Johan Persson and reporter Martin Schibbye had been approved by the late Ethiopian Prime Minister Meles Zenawi, the official said, requesting anonymity because he was not authorized to divulge this information ahead of the event."
—
Related:
CPJ Welcomes Ethiopian pardon of Swedish journalists (The Committee to Protect Journalists)
Ethiopia Pardons Two Jailed Swedish Journalists (Reuters)
Ethiopia Pardons Swedish journalists who have been in jail for alleged terrorism (AP)