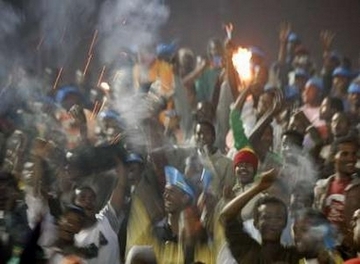 People light fires as they celebrate the approach of the Ethiopian Millennium at a stadium in Addis Ababa, September 11, 2007. Photo by Radu Sigheti (REUTERS)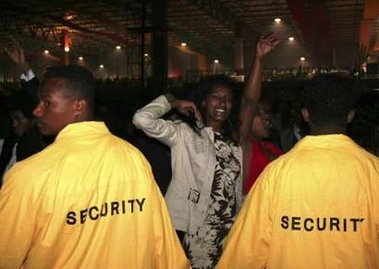 People cheer behind a security line as the Black Eyed Peas entertains the crowd during celebrations of the Ethiopian Millennium in Addis Ababa, September 12, 2007. Photo by Barry Malone (REUTERS)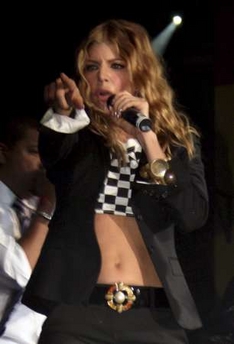 Fergie of the Black Eyed Peas entertains the crowd during celebrations of the Ethiopian Millennium in Addis Ababa, September 12, 2007. Fireworks burst over Addis Ababa and couples kissed as crowds cheered the "end of the dark ages" in Millennium celebrations, seven years after the rest of the world according to their ancient calendar. Photo by Barry Malone (REUTERS)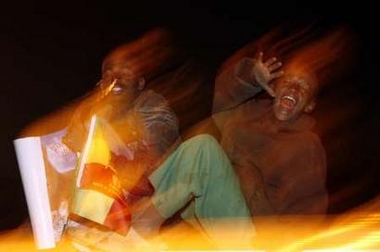 Two men shout from the top of a van during celebrations marking the Ethiopian Millennium in Addis Ababa. Photo by Radu Sigheti (REUTERS)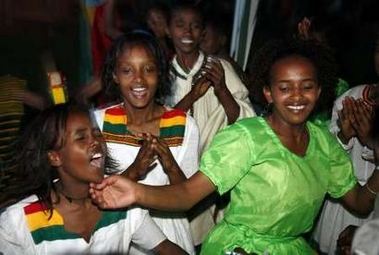 Women dance during celebrations for the Ethiopian Millennium in Addis Ababa. Photo by Radu Sigheti (REUTERS)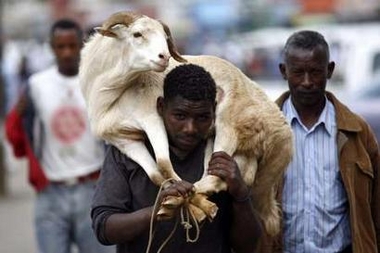 A man carries a goat for slaughter during celebrations for the Ethiopian Millennium in Addis Ababa, September 11, 2007. Soldiers stood guard, partygoers changed into national costume, and goats were slaughtered in the countdown to Ethiopia's celebrations to ring in the new Millennium seven years after the rest of the world. Photo by Radu Sigheti (REUTERS)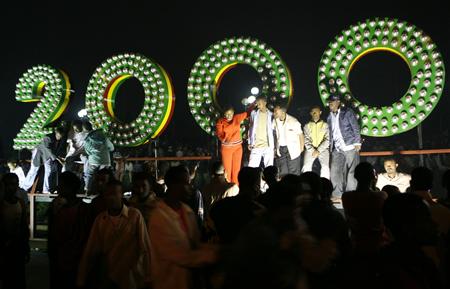 People pose for photographs in front of a sign marking the Ethiopian Millennium in Addis Ababa, September 11, 2007. Fire crackers popped, goats were slain and thousands of Ethiopian partygoers danced into the final hours of the old Millennium. Photo by Radu Sigheti (REUTERS)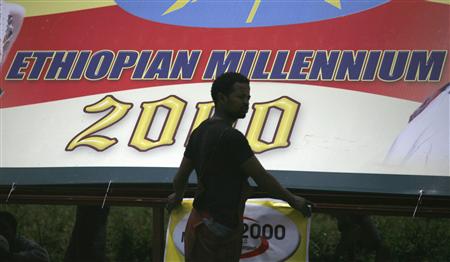 A man arranges a banner marking the Ethiopian Millennium in Addis Ababa September 10, 2007. Using a different calendar to the West, huge crowds of Ethiopians shimmied to traditional music at a free concert to see in the 21st century, seven years after the rest of the world. Photo by Radu Sigheti (REUTERS)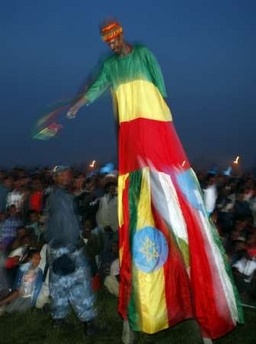 An acrobat entertains the crowd gathered for the celebrations of the Ethiopian Millennium in Addis Ababa. Photo by Radu Sigheti (REUTERS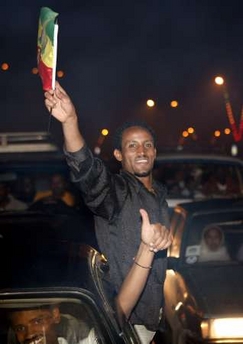 A man waves a flag as vehicles stop on the streets during celebrations marking the Ethiopian Millennium in Addis Ababa. Photo by Radu Sigheti (REUTERS)
Ethiopian Millennium celebration events & photos from around the world
In pictures: Ethiopia's forgotten archive (BBC)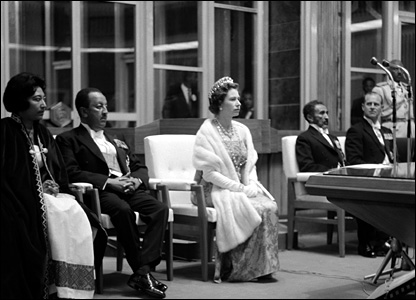 An exhibition of previously unseen photographs from Ethiopia between 1963 and 1982 is opening in London as the country marks its millennium celebrations. They were taken by Shemelis Desta who was the official court photographer for Emperor Haile Selassie. See More Photos, Click Here
In pictures: Ethiopian Millennium (BBC)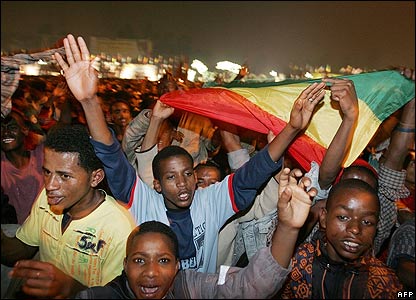 Ethiopians have been celebrating their Millennium seven years after the rest of the world, as they follow the Coptic calendar. See More Photos.
Hot shots from Australia: Ethiopian Millennium Celebration in Melbourne (Tadias)
Photos by Befekir Kebede



Melbourne, Australia – My favorite subjects to photograph are Ethiopians and their beautiful & colorful ways of life. Ethiopian youth in Melbourne, Australia, organized a festival to celebrate the New Millennium. Here are images from the event.







See More Photos, Click Here
******************************
How to Advertise
To learn about advertising, Click Here.
******************************