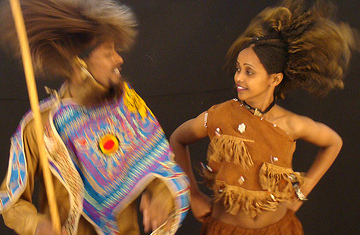 Above: Debo band's upcoming NYC show highlights Fendika,
traditional dance group from Ethiopia. (Courtesy photograph)
Tadias Magazine
By Tadias Staff
Published: Tuesday, September 14, 2010
New York (Tadias) – Debo Band's recent musical performance at the 7th Sauti za Busara festival in Zanzibar is now featured in a documentary film entitled Twice in a Lifetime. The film captures the group's energy and poignancy through clips of live performances interspersed with interviews and behind–the–scenes footage as the band travels from Ethiopia to Tanzania.
The fifteen piece cross-cultural jazz collective from Boston, founded by Ethiopian-American Harvard graduate student Danny Mekonenn, combines Ethiopian classics with modern sounds and traditional azmari grooves from Addis Ababa.
The band – along with musicians and dancers from Fendika Azmari Bet (traditional live music bar) in Addis – is scheduled to perform in New York City at Joe's Pub on Friday, September 17, 2010.
Watch: Twice in a Lifetime – Debo Band's tour to East Africa

Twiceinalife from Ashley Hodson on Vimeo.
If you go:
09/17/10, New York, NY, Joe's Pub
Time: 9:30pm. | Admission: $15 in advance/$20 at door
Address: 425 Lafayette St.. | Venue phone: 212-967-7555. | 9:30
Note from the band:
New Yorkers! Our collaborators from Ethiopia are arriving this week,
and we hit the ground running with a fantastic show in NYC. This is
the stage show we brought all the way to Zanzibar, don't miss it!
Video: Sauti za Busara 2010: Debo band

Related from Tadias Archives:
Video: Interview with Debo band founder Danny Mekonnen at L'Orange Bleue – NYC (2009)