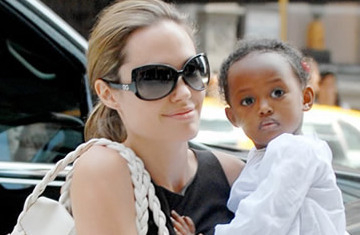 Photo – Jolie with daughter Zahara, NYC, 2007 (Purseblog.com)
People Magazine
By Mary Green
Originally posted Tuesday September 15, 2009 11:30 AM EDT
It turns out that Angelina Jolie's recent goodwill mission in Kenya was also a homecoming for one member of the Jolie-Pitt family. While Jolie, 34, and Brad Pitt, 45, were "on a trip to Kenya with their children, Angelina stopped in Dabaab Refugee Camp, and also flew to Ethiopia with Zahara and Shiloh for two days," a close family friend tells PEOPLE. The girls' trip was "the first time Zahara had been back home since her adoption," according to the friend. Zahara, 4, was adopted from Ethiopia in 2005. "The trip was about keeping up that culture for her." Read more.
VIDEO: Angelina Jolie's UNHCR Trip To Dadaab Refugee Camp (Kenya)

Related from Tadias Archives
Jolie to Build Daughter Zahara a Clinic in Ethiopia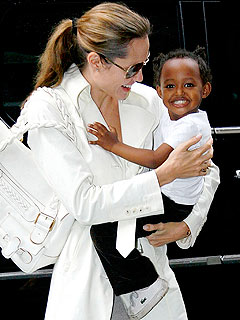 Angelina and Zahara (Photo by INF)
Published: Wednesday, August 6, 2008
New York (Tadias) – Hollywood actress Angelina Jolie is reportedly planning to build an AIDS clinic in Ethiopia, her adopted daughter Zahara's country of birth.
"We will be building a Tuberculosis/AIDS clinic in Ethiopia. The one we plan for Zahara to take over when she is older," Jolie told Hello magazine, which printed its world exclusive pictures of her newborn twins Knox and Vivienne earlier this week.
Jolie and her partner Brad Pitt already have a daughter, Shiloh Nouvel, who was born in Namibia in 2006. In addition to Zahara (aged three from Ethiopia), they are also adopted parents to Maddox (six-year-old) from Cambodia, and Pax (four-year-old) from Vietnam.
According to Contactmusic.com, the clinic in Ethiopia is an initiative of the Jolie-Pitt Foundation, a charity the celebrity couple established in 2006 for international humanitarian aid.
Jolie also has plans for her Asian children. "The next trip for our foundation will most likely be Asia to follow up on the situation in Burma and our work in Cambodia. The boys have been asking to go there, so we will take them when Knox and Vivienne are a bit older," she added.