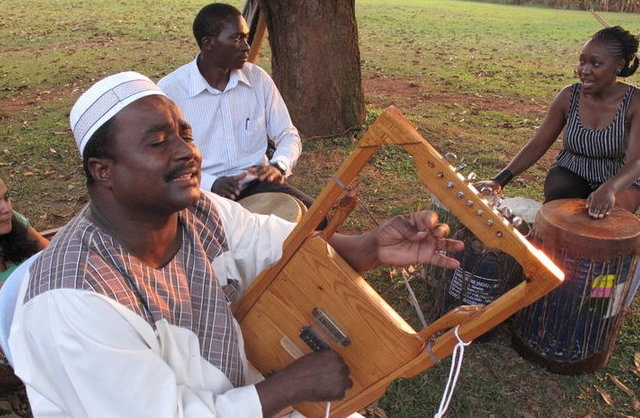 By JULIE CAINE
Listen to the program:

In a quiet park in Kampala, Uganda, 14 musicians from seven East African countries sit together under a tree. They're working on an idea from Ugandan musician Lawrence Okello.
"This is what I would suggest for this piece: That we have a conflict," Okello says to the group. "And then all of us will keep on adding flavors from different cultures, but maintaining the water that flows."
The musicians speak many languages, which means ideas and instructions have to get translated multiple times. They use different rhythms, even different tonal systems. And they play many instruments: Sudanese harps, Kenyan kettle drums, Ethiopian violins, Burundian thumb pianos, Egyptian flutes.
But under this tree, they're listening for what's shared: conflict that resolves into harmony.
This is the Nile Project — an education and development initiative that uses music to help find new ways to share an ancient resource.
"When we divert and go to your culture, give us that authentic touch of it," Okello continues. "Ah, that is Egypt. Mm, that is Rwanda. And then we go back to the Nile, and continue. We have a journey to make."
Read more at NPR »
—
Join the conversation on Twitter and Facebook.