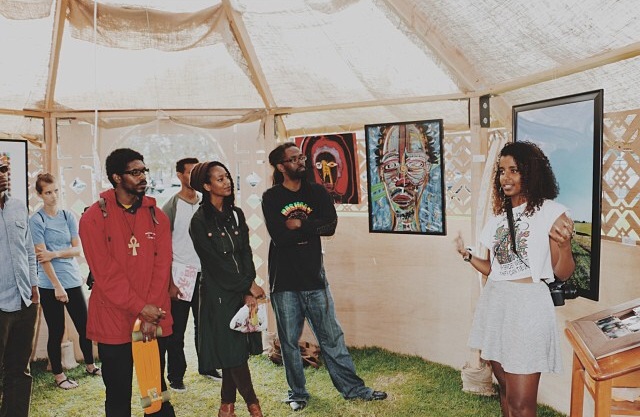 Tadias Magazine
By Tadias Staff
Published: Tuesday, September 16th, 2014
New York (TADIAS) – In a short, experimental film entitled Prince of Nowhere Ethiopian-born filmmaker Selam Bekele reflects on the exiled life and death of Prince Alemayehu Tewodros, the son of Emperor Tewodros II of Ethiopia. Alemayehu was taken prisoner by the British army in 1868 after his father committed suicide following the infamous Battle of Magdala. The child was initially accompanied by his mother, Empress Tiruwork Wube, but she died halfway through the trip. In England, the orphaned Ethiopian prince received some education under various caretakers and even briefly attended officers' training at the Royal Military College, Sandhurst. He died of lung problems at the age of 18 on November 14th, 1879 and was buried outside Windsor Castle. Queen Victoria is quoted to have written in her diary noting the passing of Prince Alemayehu as "too sad." Wiki adds: "She also mentioned how very unhappy the prince had been, and how conscious he was of people staring at him because of his colour."
In her movie Selam holds an imaginary interview with Alemayehu before he dies in which she asks the prince about his feelings of being away from his family and country. "It's mostly a conversation about displacement and how we continue to survive when we are away from home," said Selam in an interview with Tadias Magazine. The aspiring filmmaker, who herself left Ethiopia at the age four in 1995, recently graduated in Communication & Film Studies from the University of California, Davis. "I was in London for the first half of this summer as part of my research and study abroad program and it was during this time that I rediscovered the amazing story of Prince Alemayehu," she said. "I realized just how much I can relate to him as a person that left Ethiopia at a young age and kind of had to adopt to a new world. I kind of wanted to connect his story with the similarity of stories from the Diaspora today in regards to migration, relocation and adapting to a new society while maintaining our ties to our culture and history."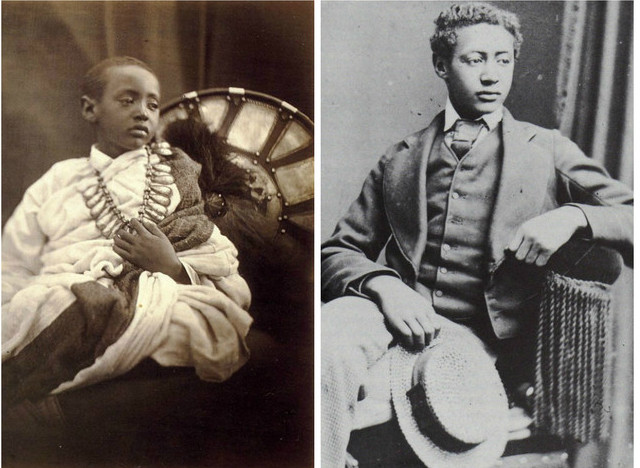 Left: Prince Alamayou as a child – photo by Julia Margaret Cameron. Right: Alamayou in his teens in England – photo from Brotherton Library, University of Leeds.
Prince of Nowhere was screened last week in Oakland, California at the Home [away from] Home visual arts and music festival held in celebration of Enkutatash and featuring the works of several up-and-coming East African artists in Northern California including Ethiopian-born singer and songwriter Meklit Hadero, Eritrean American filmmaker Sephora Woldu, Ethiopian American musician Ellias Fullmore as well as Ethiopian painter Wosene Kosrof. The centerpiece of the week-long festivities in Oakland was a pop-up art installation in the form of a Gojo that was built by the artists and set-up on Lake Merrit. "You walk inside and you see the commissioned arts on display. It had an entrance door and the exit door is your way to the festival," Selam said. "It was something that basically took the whole summer to organize. She added: "We found taxi cab stories from Ethiopian and Eritrean cab drivers. Basically we interviewed them and got them to tell us a bit of their stories. Then, we sent the stories to the artists to help them find some sort of inspiration based on the kinds of things the taxi drivers had shared and we made art out of it and each artist had their own interpretation."
The outdoor event was attended by a diverse crowd of 300 to 400 people. "We attracted kids, elders, Ethiopians, Eritreans and members of the larger Oakland community," she said.
As to her own film project, Selam notes that as part of her research she visited Alemayehu's burial site at St George's Chapel, Windsor Castle and the major museums in London housing any information on Alemayehu, Tewodoros, and the 1868 British expedition to Ethiopia. "I got to see some incredible photographs of Alemayehu that were taken of him both alone and with his caretaker," Selam said. "I use some of those images in my film." Selam continued: "I found out that Prince Alemayehu was extremely homesick. They could not figure out what was really wrong with him, he had breathing problems that caused him to die at such a young age. I believe that his sadness contributed to his death," Selam stated. "I was thinking that sadness, that feeling of emptiness, is easily relatable by those of us living in the Diaspora." She added: "And his name Alemayehu is kind of ironic too, if you break it down Alem ayehu it means "I saw the world," but in his case when you are forced or taken away without choice and not exactly for the best reasons, it has that ironic undertone. So I wanted to capture that in a modern, bright, experimental and artistic way, but at the same time save a piece of history."
The film project came out of Selam's study abroad experience: "I felt that we were not discussing enough when it came to some of the greater effects of the British Empire has had on the rest of the world and that conversation was kind of being left out. And that's why I started to dig a little bit into what exactly was the historical relationship between Britain and Ethiopia?"
In addition to carrying off Prince Alemayehu, the British army employed elephants and hundreds of mules to transport royal loot of priceless Ethiopian treasures that to date remain unreturned. In an article published in 2007, BBC reported that "Many of them are still in Britain and the Queen has some of them – notably six of the very finest illuminated manuscripts, which are part of the royal collection in Windsor Castle." The same article adds that "Ethiopia's president has sent Queen Elizabeth II a formal request for the remains of a prince who died in Britain more than a century ago. The royal household at Windsor Castle, where Prince Alemayehu was buried, is said to be considering the request."
That was seven years ago, but today Selam said she will be bringing her 18-minutes film to the East Coast this Fall "to keep the story alive" and hopes to screen in DC in late October and in New York sometime in November.
Below are photos from Oakland's Home Away from Home Arts & Culture Festival:

—
Join the conversation on Twitter and Facebook.