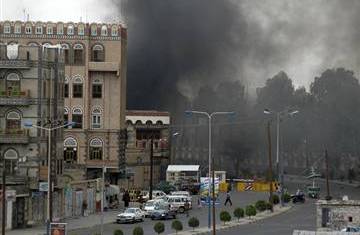 NBC News and news services
Photo: Smoke billows from the U.S. Embassy complex in San'a,
Yemen, after a deadly car bombing on Wednesday.
(Yemen News Agency via Reuters)
SAN'A, Yemen - At least 16 people died Wednesday after car bombers wearing military uniforms targeted the U.S. Embassy in Yemen, officials said. No Americans were reported injured.
An initial blast outside the heavily-fortified compound's main gate was followed by "several secondary explosions" at around 9:15 a.m. local time, an embassy spokesman said. According to Yemeni officials, the blasts were followed by an intense 10-minute gunbattle.
A senior U.S. official said the first Yemeni emergency personnel to arrive on the scene were hit by heavy sniper fire from gunmen who had stationed themselves across the street from the embassy. Read More.