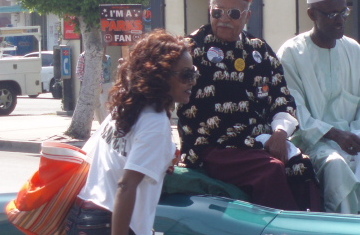 Tadias Magazine
Events News
Updated: Friday, September 19, 2008
Los Angeles, CA (Tadias) – The seventh annual anniversary of Little Ethiopia took place in Los Angeles on September 14, 2008.
The celebration was organized by the Little Ethiopia Business Association, which is chaired by Woizero Negest Legesse. Among the most active organizers of the event were: Mesob Restaurant, Rosalind Restaurant, Rahel Vegan Cuisine, Nyala Restaurant, Ferede Child Care Center, Selam Travel, and the Ethiopian Airlines. The office of the Mayor of Los Angeles and City Councils have also provided assistance to the event.
This year's theme, "International Unity Parade in Celebration of Africa", had two components: a parade and cultural show. Eighteen African countries were represented at the parade. There were also school bands, and representatives of the Mexican American, Indigenous American, African American and Caribbean communities.
The cultural show included Ethiopian music and dance, comedy, and a speech. Ayele Bekerie, Assistant Professor at the Africana Studies and Research Center of Cornell University (a regular contributor to Tadias Magazine) gave a keynote address entitled: The Street Named Ethiopia: Some Historical and Cultural Reflections on Global Ethiopia.
The events were well attended. It is estimated that there were over 2,500 people in attendance. Here are some selected pictures by Dr. Ayele Bekerie.