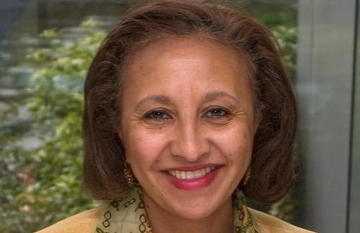 By Tadias Staff
Published: Tuesday, September 16, 2008
New York (Tadias) – We recently spoke with Washington, D.C. resident Kedist Geremaw, a health care administrator and one of the 3,600 individuals who were selected and trained as an Obama Organizing Fellow this summer.
According to the Obama-Biden campaign website, the Fellows are "trained on the basics of organizing & campaign fundamentals and then placed in a community to carry out grassroots activities." Their purpose? To encourage "a new generation of leadership that believes, like Senator Obama, that real change comes from the ground up." Individuals who pass the highly selective process end up working a minimum of 30 hours per week alongside other grassroots leaders and the Obama campaign staff.
Kedist Geremaw (whose daughter Naomi Senbet, a 2004 Kids-Week Jeopardy contestant, also featured on Tadias along with Naomi's father Professor Lemma W. Senbet) says she was sold on the idea of becoming a Fellow after reading Obama's memoir, Dreams from My Father: A Story of Race and Inheritance.
Geremaw hopes Obama will become the next President of the United States. She recounts her initial introduction to the man. "Some time ago, someone suggested a book called Dreams From my Father, and after I was done reading, I went out and purchased Obama's second book: The Audacity of Hope. I was hooked!! When he declared his intention to run for the presidency, I jumped on the bandwagon and joined the D.C. for Obama group," she says. She took a road trip to Denver to hear Senator Obama's historic acceptance speech on August 28th at Invesco Field.
"It was a historical and unbelievable experience," she recounts with excitement. "There wasn't a dry eye in the stadium; there was hugging, high fiving, flag waving, cheering. There were people of all backgrounds, colors, ages. It was unlike the other campaign." "In Denver," she concludes, "people were unified under one cause and a future President."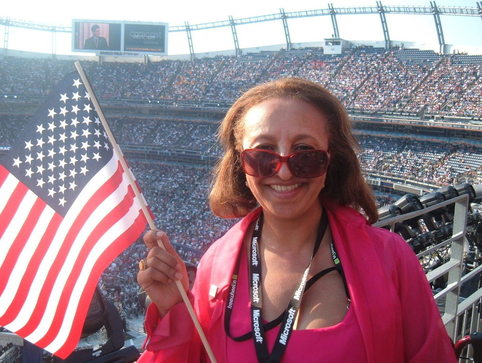 Kedist Geremaw at Senator Obama's historic acceptance speech on August 28
at the Invesco Field at Mile High in Denver, CO.
Geremaw had worked for Ethiopian Television prior to immigrating to the United States. "As a Washington, DC resident I have been troubled by the lack of representation in both Houses – the Congress and the US Senate. This started my journey to greater political involvement. I have been part of a community of grassroots organizers for many years" she says.
"'No man is an island entire of himself'," she adds quoting John Donne, "so I come to this campaign with the spirit of enthusiasm of a grassroots organizer hoping to make a contribution to my community, my country and my world." As a health care worker, Geremew sees health disparities every day. "And as an informed citizen," she says, " I see an unnecessary war which has alienated our country from the rest of the world."
Asked about the possibility of Ethiopian Americans swinging the vote in states like Virginia, where the election is expected to be close, Geremaw's answer is an emphatic 'yes.'
"If we go back and look at what happened in 2000 the gap between the two candidates was so minimal, with the high number of Ethiopians living in Virginia, the swing vote is a reality within our reach. The answer is yes, yes, and yes," she says confidently.
Does she have time to collaborate with the swelling Ethiopians for Obama movement?
"I am very much familiar with the effort of Ethiopians for Obama," she replies. "I would like to take this opportunity to thank them for choosing me as person of the week for my involvement in the campaign. They are working tirelessly doing voter registration by going to where our Ethiopian community congregates including churches and restaurants."
She also mentions the annual pilgrimage to the Ethiopian soccer tournament which took place in early July.
"There was a lot of work done at the Ethiopian soccer tournament early this summer. These young energetic Ethiopian Americans are working hard, day in and day out" she adds.
And about the recent McCain-Palin surge in the polls?
"You know what? I am the most optimistic person. I have this belief in what is at hand. It is like a wave and nothing will stop it. But the reality is between now and November things can happen which may change the course. Our obligation is to stay focused in our work and commitment," she says.
Geremew then quotes Eleanor Roosevelt: "'The future belongs to those who believe in beauty of their dreams'. To make the dream a reality we as citizens need to register and VOTE." "It is our civic duty," she emphasizes, " that is the only way to bring profound change."
Geremaw, who tells us that she has incorporated the American culture of volunteerism into her lifestyle, believes that getting involved is the only way to make a difference. "A lot of my close friends complain at times about the little time I spend with them. Every time I am away from my professional duties my time is spent on volunteerism. I love it and it is rewarding. Your horizon, your network, your knowledge is enhanced by these experiences," she concludes.
"When the founding fathers wrote the masterpiece that is our constitution, they did not foresee the great influx of new citizens, like you and I, that have arrived from every corner of the globe, and that now make up the beautiful fabric of this nation. As we assimilate and enjoy its many benefits we must also assume our share of the responsibilities of civic duty and volunteerism."
There is much for Geremew to accomplish as an Obama Organizing Fellow, and the creativity, dedication, and optimism that she and her colleagues are displaying is inspiring, commendable, and contagious.