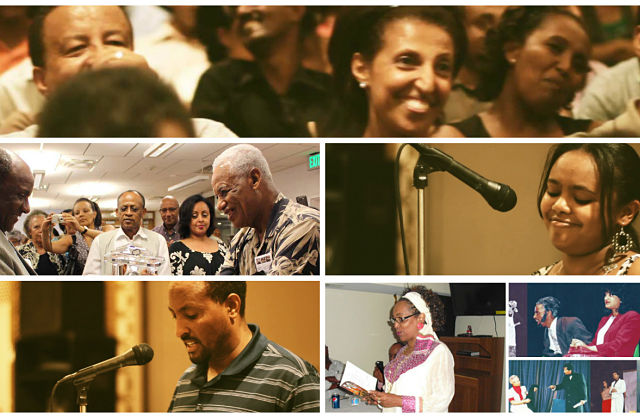 Tadias Magazine
By Tadias Staff
Published: Tuesday, September 22nd, 2015
New York (TADIAS) — The Taitu Cultural and Educational Center (TCEC) announced that the first of multiple events planned to celebrate its 15th anniversary this year kicks-off on October 2nd in Washington, D.C. with an evening highlighting the center's past accomplishments and future plans.
Since it was established in August 2000 the independent artists organization based in the U.S. capital has hosted over "176 monthly poetry nights in which over 2800 amateur and professional writers and poets participated," says the founder, Ethiopian-born playwright and poet Alemtsehay Wedajo.
Alemtsehay shared that in addition the center has staged and financed "four poetry events in Ethiopia and 'African Poetry Night' in Swahili, Arabic, English and French."
In 2013, the organization opened a library and research center in D.C. dedicated exclusively to Amharic publications — the first of its kind in the U.S. The original collection featured more than 900 Ethiopian books and rare periodicals, including newspapers, biographies, children's books, fiction, political journals, comedy and poetry publications.
"As TCEC celebrates 15 years of community service, we embark on a journey of taking on even bigger challenges," Alemtsehay says. "Starting with the 2015/16 academic year, TCEC will expand its tutoring and mentoring Program to Maryland and make this critical service available to an even larger number of students. TCEC is also working on a plan to acquire a building that will serve as its home and a hub for Ethiopian arts and culture in the Washington D.C. metropolitan area and beyond."
Alemtsehay notes that TCEC has planned three major programs for the upcoming Fall and Winter seasons to celebrate its 15th year anniversary. The first event is scheduled on October 2nd in Washington, DC.
—
If You Go:
Taitu Cultural and Educational Center
15th Anniversary Celebration
October 2, 2015 at 7:00PM
2815 36th St NW, Washington, D.C.
(St. Sophia Greek Orthodox Church)
www.tayituculturalcenter.org
Join the conversation on Twitter and Facebook.