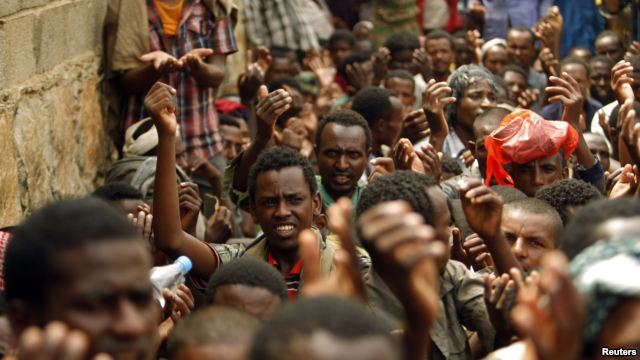 Marthe Van Der Wolf
September 25, 2012
ADDIS ABABA, ETHIOPIA — Almost 300 stranded Ethiopian migrants returned on Tuesday from Yemen. Thousands more remain stuck in nearby countries, though, after they went abroad illegally for economic reasons.
A charter flight by IOM, the International Organization for Migration, carried 275 Ethiopian migrants back to Addis Ababa on Tuesday morning. These migrants had crossed the borders illegally and were stranded in Yemen.
IOM assists with the return and reintegration of migrants worldwide, and has helped more than 2,000 Ethiopians to return voluntarily from Yemen since March.
Yemen itself was not the destination for most. Demissew Bizuwork of the IOM said most were trying to reach Saudi Arabia.
"Many would like to travel to the Middle East, especially Saudi Arabia, and other Middle East countries. Most people, when we interview them, they would like to cross, because Yemen is very close to the Horn of Africa, so they would like to cross through Yemen to Saudi Arabia and other Middle East countries," said Bizuwork.
Addis Ababa shelter
The returnees on the charter flight on Tuesday were brought to a shelter close to the airport in Addis Ababa upon arrival. Women, children, elderly and vulnerable migrants are accommodated in the shelter for a day or two. Demissew said it's better for the returnees to rest in the shelter for a couple of days, before going back home.
"When we bring people directly from the airport, we bring them here so that they can settle here. These people lost everything. We provide them with accommodation, food, medical assistance as well," said Demissew. "We provide them some reintegration assistance, some money so that they at least when they come to their families they can do something. And we also provide them with transportation up to their destination."
Hopes for a better economic future lead many Ethiopians to leave their country. But for most migrants, the reality in Yemen is opposite from what they were told before departure. Smugglers and human traffickers convince Ethiopians that life in the Middle East is much better, said Ministry of Foreign Affairs spokesman Dina Mufti.
"There are some push factors and one of the major push factors is actually the people who are involved in the illegal human trafficking," said Mufti. "They deceive the minors. They have targeted the rural areas, where people are not familiar with what is happening in the rest of the world. The deal with the minors and the youngsters, they target them, they promise them something that is not there."
Returness discuss experiences
Yohannes is one of the returnees at the shelter. He is in his twenties and comes from the Tigray region in the north of Ethiopia. He left his job as a merchant six months ago in hopes of making more money. But the trip ended badly, as he was detained in Yemen.
"Its a very difficult journey. They beat you and they don't take care of you," he said.
Gobeze is another of the migrants at the shelter. He is in his twenties, has a wife and three kids in the Wollo province, but decided to leave Ethiopia in December. Although he already had a job as a weaver, he hoped to make more money in the Middle East. But the journey only cost him money, said Gobeze.
"Initially I paid 4,000 birr. But they were hanging me by my arms and I was suffering so I had to ask my family for another 15,000 to save my life," he said.
Rising tide of migrant Ethiopians
Yohannes and Gobeze are just two of the thousands of Ethiopians experiencing the hardship of illegal migration. But the number of Ethiopians crossing over to Yemen has been rising in recent years. Statistics of the United Nations refugee agency show that more than 103,000 Ethiopian and Somali migrants arrived in Yemen in 2011, up from 53,000 in 2010.
The Ethiopian government has formed task forces and is working with various organizations to inform people about the dangers of illegal migration, said Mufti.
"The government has recently been aware of the fact that the gravity of the illegal immigration, the human trafficking is felt. Because it has a social consequence, and economic consequence, and psychological consequence as well. Now what is happening is to try things from the grass root, to go to the grass root level and create an awareness on the part of the citizen that these human traffickers are doing damage to the country."
The IOM charter flight on Tuesday was the third and last flight in September. Many more Ethiopians in Yemen are waiting to go home, said Demissew.
"There are thousands of people stranded, there are about 4,000 people in the border town. Our center accommodates about 350 people. It was initially built to accommodate maybe 150, 200 people. But there are many more people," said Demissew.
The next flight returning illegal migrants to Ethiopia is expected in October.
—
Read more news at VOA.