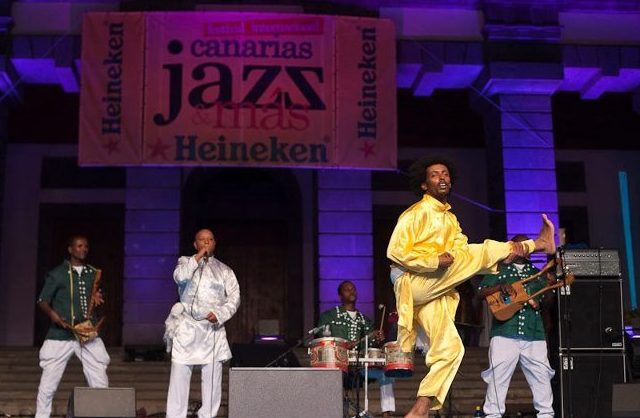 Tadias Magazine
By Tadias Staff
Published: Friday, September 26th, 2014
New York (TADIAS) — If Ethiopia is to have a cultural dance ambassador, Melaku Belay will likely be a front runner. The New York Times described the leader of the Fendika dance troupe as "a happily superlative artist" following his live show here three years ago at the Lincoln Center Out-of-Doors concert stating "The rhythmic virtuosity of Mr. Melaku was often astounding." Raving about his Guraginya performance, the newspaper added: "Sometimes the feet alternated, sometimes he hopped, and on one occasion, while hopping brilliantly, he mimed strumming on the other leg, which he kept stretched out like a guitar…At the climax of one amazing dance cadenza, his own body became a trill — initiated, it seemed, from somewhere around the diaphragm and midspine, but with the whole body shaken into a blur — and then he began to turn in a traveling diagonal across the stage."
Since then, of course, Melaku who also runs the Fendika cultural dance club in Addis Ababa, has returned to the United States for several sold-out events including in Washington, D.C., Boston and Philadelphia.
Currently, however, the renown Ethiopian performing artist says he is busy raising funds to purchase his club property (Fendika Azmari Bet) in his hometown of Addis, where "the land where the club sits is due to be sold imminently."
In a press release the artist's friends announced the launch of a crowd-sourcing campaign via Indiegogo entitled "Save the FENDIKA cultural club in Addis Ababa." In addition, organizers indicated there will be a benefit concert at Jazzamba nightclub in Taitu Hotel on Sunday September 28th beginning at 6 PM.
"Located in the Kazanchis neighborhood of Addis, the vibe and smell and feel of Fendika could not be more authentic," the press release added. "It is a place of feeling, of heart, of connection, creativity, the jokes of the azmaris and their clever lyrics, [as well as] Melaku's group Ethiocolor's inspired and traditional dance, you will not experience a more vibrant, living and breathing venue anywhere in the world."
Fendika's trademark vibrancy was certainly on display during their 2011 appearance in New York. As NYT recorded "They regularly returned, individually or together, to the stage. The singer Selamnesh Zemene always enriched the spell; Asrat Ayalew's playing of kebero (traditional drums) had complexity and brilliance; and Mr. Melaku and Zinash Tsegaye, the two dancers, provided most of the program's most remarkable highlights."
What sets Fendika apart from being merely a house of traditional music, Melaku's friends point out, is its open-door policy for global music. "Melaku welcomes visiting musicians, dancers, poets, singers, artists who join in to share their creativity in the warm embrace of the club," the press release states. "He believes that this is his mission together with all artists – to exchange culture and promote peace through music and art. If he is successful in buying Fendika from its present owner, Melaku plans to add to the building, keeping Fendika exactly as it is but adding some income-generating aspect to the upper floors, most probably a small hotel where visiting artists and musicians can stay."
save the FENDIKA – an extract from "Jamming Addis" from Dirk van den Berg on Vimeo.
—-
You can support the fundraising campaign at indiegogo.com.
Join the conversation on Twitter and Facebook.