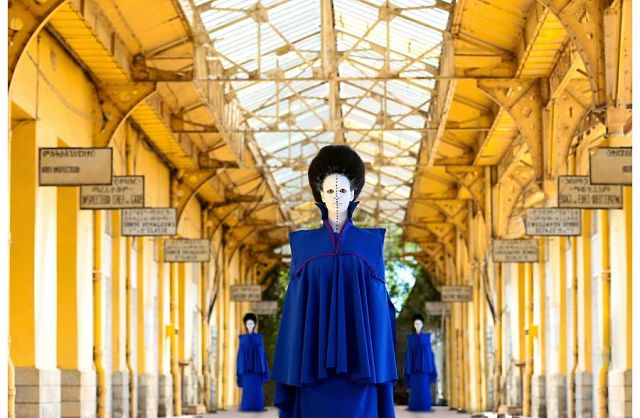 Tadias Magazine
By Tadias Staff
September 26th, 2017
New York (TADIAS) — Photographer Aida Muluneh from Ethiopia will be featured in the upcoming Being: New Photography 2018 exhibition, which is the current edition of the Museum of Modern Art (MoMA)'s New Photography series in New York.
MoMA announced that the show that will be on display next Spring (March 18 – August 19, 2018) "investigates charged and layered notions of personhood and subjectivity in recent photography and photo-based art, presenting works by 17 artists working in the U.S. and internationally."
MoMA's press release notes: Being: New Photography 2018 "is constituted primarily of works made since 2016, both by artists who are just starting out in their careers, some showing in New York for the first time, and by others with more established practices who, in some cases, have been supporting the field of photography through teaching or creating other platforms for production. For all the artists, this will be the first exhibition of their work at the Museum."
"While personhood is something that we all share, also inherent in these representations is the recognition of difference, which is especially urgent in our current moment," says organizer Lucy Gallun who is an Assistant Curator of the museum's Department of Photography. "Universality in humanity does not mean sameness."
Aida was born in Ethiopia in 1974, but left the country when she was five years old and spent an itinerant childhood between Yemen and England. After several years in a boarding school in Cyprus, she finally settled in Canada in 1985. In 2000, Aida graduated with a degree in Film from Howard University in Washington, D.C. She later worked as a photojournalist for the Washington Post exhibiting her work in-between throughout the United States. Aida returned to Ethiopia in 2007. Her images are part of the permanent collection at the Smithsonian's National Museum of African Art, the Museum of Biblical Art, as well as various private galleries and collections in New York and across the country.
—
If You Go:
Being: New Photography 2018
March 18, 2018–August 19, 2018
www.moma.org
Video: TADIAS Interview with Aida Muluneh
Join the conversation on Twitter and Facebook.