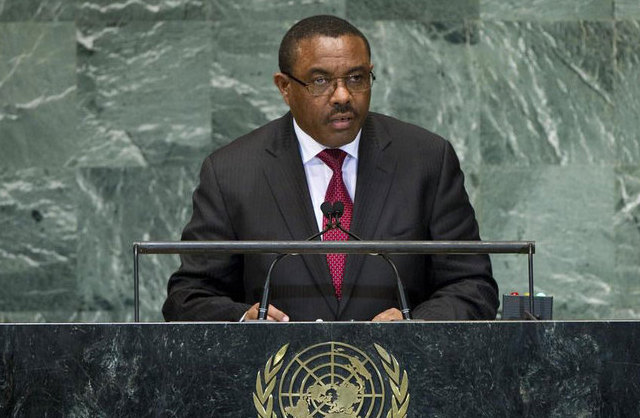 Tadias Magazine
Editorial
Updated: October 1st, 2012
New York (TADIAS) – In his first interview with Voice of America since he was sworn into office, Prime Minster Hailemariam Desalegn suggested that he will be doubling down on the government's controversial policy of jailing journalists and opposition leaders.
In a wide-ranging 30-minute discussion with Peter Heinlein conducted in New York, where the PM was attending the U.N.'s General Assembly meeting last week, Hailemariam defended the continued imprisonment of several journalists, including Eskinder Nega, on the basis of national security, repeating the state's claims that the journalist had been living a "double life," or as he called it, "wearing two hats."
"Our national security interest cannot be compromised by somebody having two hats. We have to tell them they can have only one hat which is legal and the legal way of doing things, be it in journalism or opposition discourse, but if they opt to have two mixed functions, we are clear to differentiate the two," he said.
It is disingenuous to silence critique by journalists and opposition members while maintaining that the nation exercises a "multi-party system." The PM's comments remind us of a poster by the provocative Chinese artist Ai Weiwei responding to a similar accusation by the Chinese Communist Party authorities who called him a dissident artist. Weiwei retorted back: "I call them a dissident government."
We urge the Prime Minister to reconsider his position on freedom of the press and to ensure that if Ethiopia is indeed to become a functioning multi-party system then the voice of the opposition, including criticism from journalists, is upheld.
—
Related:
Ethiopia's New PM Says Policies Will Remain Constant (VOA News)
Editorial: New PM Should Seize Missed Opportunities of Past 20 Years (TADIAS)
Hailemariam Desalegn Sworn in as PM (AP)
—
Click here to join the conversation on Facebook.
video: Prime Minster Hailemariam Desalegn Addresses the 2012 UN General Assembly

—