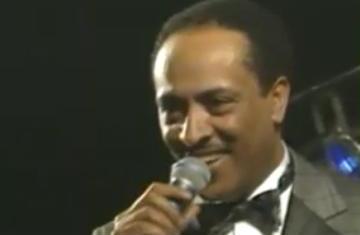 Above: On April 19, 2009, Ethiopians lost the greatest
popular musician the country has ever produced. Tilahun
Gessesse would have turned 69 on September 27, 2009.
Addis Fortune
Tewodros Kasahun, aka Teddy Afro, once said that the legendary Ethiopian singer, the late Tilahun Gessesse had carried him in his arms when he was a child and bought him Fanta. He praised Tilahun as "the other lion", in line with Kenenisa Bekele – whom he honoured in an instantly popular single released immediately after his athletic victory at the 2004 Greek Olympics. Tilahun was sitting beside him on stage as Teddy made this remark. Today, September 27, 2009, the late king of Ethiopian music, Tilahun Gessesse, would have turned 69, had he lived. His death, however, has not been a deterrent to his friends' and fans' determination to celebrate his birthday. It will be at this event that Teddy Afro will make his first public performance since gaining his freedom, August 13, 2009.
Read more.
Remembering Tilahun Gesesse

Ethiopia is mourning what many describe as one of the greatest -
if not THE greatest popular musician – the country has ever produced.
Read more at BBC.