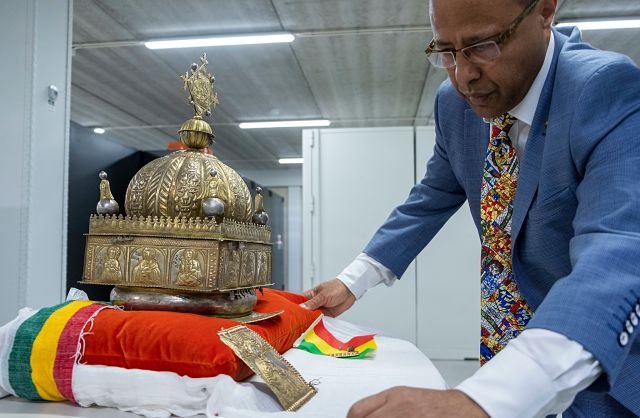 The New York Times
Oct. 3, 2019
AMSTERDAM — In 1998, Sirak Asfaw, a Dutch civil servant who was born in Ethiopia, noticed something shiny in the suitcase of a guest who was staying at his house. Curious, he opened the case to find a glittering gilded crown inside.
"I couldn't believe my eyes," Mr. Sirak, who moved to the Netherlands a political refugee in the 1970s, said in a recent interview in Amsterdam. "I felt betrayed. Using my house to smuggle cultural heritage from Ethiopia? I knew it had something to do with Ethiopian history, the Ethiopian kingdom. I knew this is not good."
Mr. Sirak said that he felt he couldn't return the crown to the Ethiopian authorities, because he suspected that the government might have been complicit in the theft, and he feared that it would be stolen again.
He also didn't want to hand it over to the Dutch authorities, because he worried that a museum would keep the crown forever rather than returning it when a new Ethiopian government was in place.
So Mr. Sirak locked the visitor out of his house, he said, and removed the crown from the suitcase. He did not identify the smuggler to The New York Times for fear of his safety, and said he didn't know how his guest had acquired it.
For 21 years, he hid it in his home. "When I saw it, I always felt very emotional," he said. "I knew it shouldn't be here, not in my house, not in the Netherlands."
—
Related:
Ethiopian 18th Century Crown to Return Home From Netherlands (BBC)
Join the conversation on Twitter and Facebook.