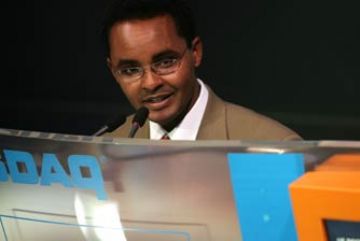 On Thursday, March 23, 2006, Ted Alemayhu (above), Founder & CEO of U.S. Doctors for Africa, became the first Ethiopian to ring the closing bell on NASDAQ.
By STAFF WRITER
Los Angeles – U.S. Doctors for Africa, a California based non-profit organization, founded by Ethiopian-American social entrepreneur Ted Alemayuhu, will hold its annual gala in New York City on October 17th at Cipriani on Wall Street.
Last year's gala was held at the World Bank building in Washington, D.C.
This year's event will highlight USDFA's Mobile Clinic project that is set to start late November 2007 in partnership with the government of Ghana.
According to the event's website, the Vice President of Ghana will be among other hot shots attending the event.
The gala will honor music and fashion mogul, Russell Simmons, and three other extraordinary philanthropists.
Simmons, a native of Queens, New York, is the co-founder of the pioneering hip-hop label Def Jam, founder of Russell Simmons Music Group , and creator of the clothing fashion line Phat Farm.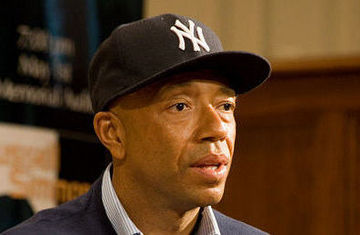 Russell Simmons at Emory University. Photo by Brett Weinstein. This work is licensed under the Creative Commons Attribution.
He is the fourth richest Hip-Hop entertainer, having a net-worth estimate of $325 Million. He is only behind Jay-Z at $547 Million, 50 Cent at $440M now (estimated 800M after 2008), and P Diddy at $358M.
In the aftermath of Hurricane Katrina, Simmons joined 22 other top executives in the apparel and home fashions industry to form Fashion Delivers Charitable Foundation, Inc. to unify the apparel and home fashions industry to donate new product to help needy individuals and families who fell victim to one of the USA's worst natural disasters. In supporting the new charity, Phat Farm underwrote a t-shirt design contest with 100% of the proceeds going to Fashion Delivers.
The other honorees include Eric Pulier, Chairman & CEO of SOA Software, Paul Hunter, Founder & CEO of Hunter Manufacturing, and Warren Rosen, Founder & Chairman of Rosen Companies and Harmony Insurance Brokerage.
USDFA is a non-profit organization dedicated to mobilizing volunteer U.S. doctors, nurses, and other health care professionals in order to fulfill the overwhelming medical manpower needs across the African continent.
On Thursday, March 23, 2006, its Founder & CEO Ted Alemayhu became the first Ethiopian to ring the closing bell on NASDAQ.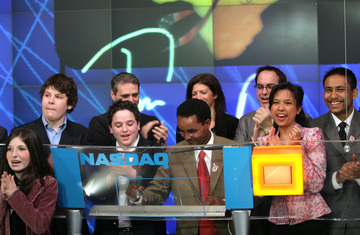 Ted Alemayhu, Founder and CEO of US Doctors for Africa, signs in at the Closing Bell. Thursday, March 23, 2006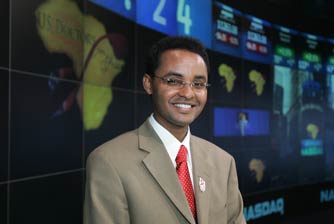 As one of the few internationally respected young Humanitarian leaders, Ted Alemayhu envisions a future for Africa in which it produces and invests the economic wealth, intellectual capital and human resources required to provide medical care to its entire people.
Among numerous honors and recognitions, Ted has been praised and recognized by Head of States of African Nations, Members of Congress and Senators, The World Bank and The IMF, former Secretary General Kofi Annan, former President Clinton, NASDAQ, as well as numerous Head of Corporations and Foundations.
More about USDFA at: usdfa.org
******************************
How to Advertise
To learn about advertising, Click Here.
******************************