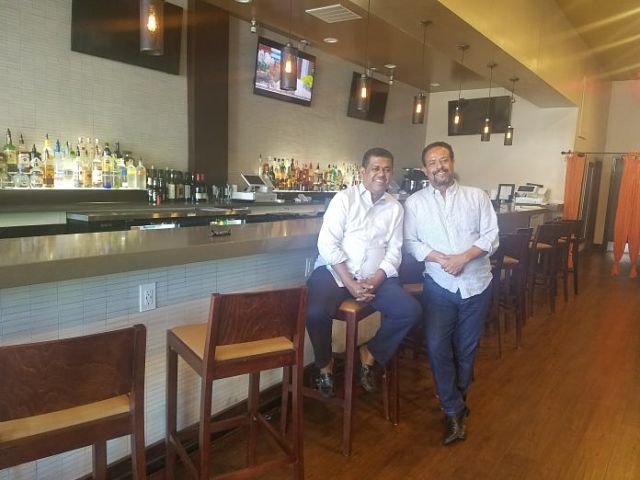 Tadias Magazine
By Tadias Staff
October 8th, 2017
New York (TADIAS) — Philipos Mengistu, owner of the popular NYC restaurant Queen of Sheba, has partnered with his childhood friend Daniel Solomon of Virginia to open Makeda — a new 95-seat Ethiopian restaurant and bar located in Alexandria.
Makeda, which is located at 516 S. Van Dorn St., "features traditional and authentic Ethiopian fare," notes The Alexandria Times newspaper. "Chef Senait "Mimi" Tedla is running Makeda's kitchen." The new menu includes traditional fare alongside Makeda Tibs, Quanta Firfir, Assa Dullet, and Assa Goulash. Extra food options at Makeda include rice and pita bread as well as a kids meal section. "In addition, Makeda will offer gluten-free injera and is working to make sure its menu caters to health-conscious eaters," says Philipos.
The food news site DC Eater adds: "The plan is to create a vibrant bar scene. The restaurant features a full lineup of beer, wine, and liquors, and plans to offer live music in the evenings."
Philipos and Daniel have known each other for more than four decades going back to their growing up days in Ethiopia. Solomon has been a resident of Alexandria since the early 90s and looked forward to opening an Ethiopian restaurant with Philipos.
"We opened [Queen of Sheba] to introduce Ethiopian food to New Yorkers and to serve the international community. We've loved sharing with family and friends and now we've brought that experience to Alexandria," Philipos tells The Alexandria Times as Makeda opened its doors last week.
—
Related:
Makeda Ethiopian Restaurant opens on Van Dorn Street (The Alexandria Times)
Manhattan Restaurateur Exports Latest Ethiopian Restaurant to Alexandria (DC Eater)
Join the conversation on Twitter and Facebook.