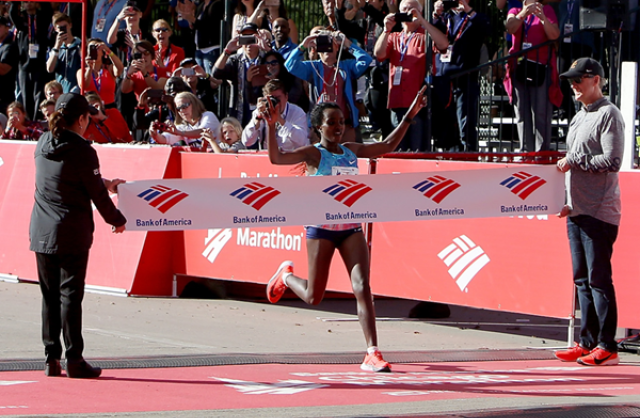 CHICAGO – Ethiopian Tirunesh Dibaba, who during her illustrious career has won 12 global titles including three Olympic golds, added a new accomplishment to her CV today — she won her first marathon as she captured the 2017 Bank of America Chicago Marathon in 2:18:31 – the second-fastest time ever recorded in Chicago. Kenya's Brigid Kosgei was second in a massive new pb of 2:20:22 (previous pb of 2:24:45).
Dibaba's victory was much-deserved as well as she hammered from the gun. She ran her first 5k in 16:09 (that's 2:16:09 pace) but five women were still with her at halfway. Shortly after that it became a two-person battle between Dibaba and Kosgei as Kosgei did her best to stay with Dibaba, who often was swerving from side to side to prevent Kosgei from drafting off of her. A 5:15 20th mile gave Dibaba a sizeable lead, which only grew to the finish.
With Dibaba's victory assured, the only drama was how well everyone else would hold up until the finish as all of the five women in the lead pack at halfway ran a positive split.
—
Related:
Ethiopia's Tirunesh Dibaba dusts women's field at Chicago Marathon (The Chicago Tribune)
Join the conversation on Twitter and Facebook.