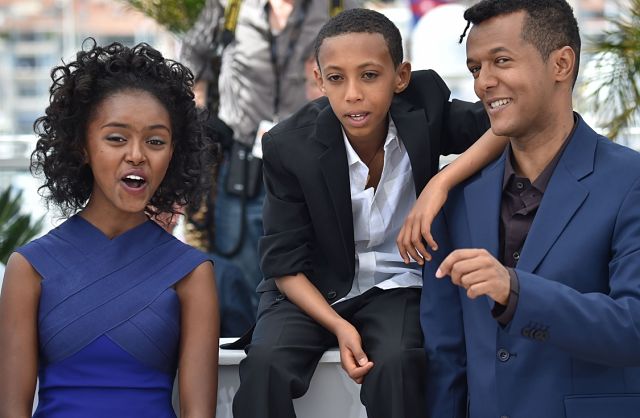 Tadias Magazine
By Tadias Staff
Published: Friday, October 9th, 2015
New York (TADIAS) — Director Yared Zeleke's film Lamb is Ethiopia's official submission to this year's Oscars in the Best Foreign Language Feature category. Lamb won the Best Feature Film award at the Milan Film Festival in September and has received enthusiastic international reviews.
In May 2015 Lamb became the first Ethiopian feature to premiere at the Cannes Film Festival in France. The feature tells the story of an Ethiopian boy, Ephraïm, who bonds with a sheep as he is sent away from home following the death of his mother. Ephraïm soon learns that the sheep he befriended may have to be sacrificed for a feast and plots a way both to save the lamb and find his way home again.
Tadias Magazine recently interviewed Director Yared Zeleke following the premiere of Lamb at Ethiopia's National Theatre in Addis Ababa.
For the 88th Academy Awards "the total number of films submitted this year fell just shy of the record 83 films that were submitted in 2014," notes the Hollywood Reporter. Other submissions from the African continent include Twilight of Shadows (Algeria), Run (Ivory Coast), Aida (Morocco), and The Two of Us (South Africa).
Prior Oscar submissions from Ethiopia include The Athlete directed by Rasselas Lakew & Davey Frankel for the 83rd Academy Awards, and Difret directed by Zeresenay Berhane Mehari for the 87th Academy Awards.
Read more at The Hollywood Reporter »
—
Related:
Tadias Q&A with Yared Zeleke – Director of Ethiopian Film 'Lamb'
Lamb Review: Sheer Brilliance Knits Together First Ethiopian Film at Cannes (The Guardian)
Watch: Ethiopia's First-Ever Cannes "Official Selection" Drama 'Lamb' (Indiewire)
Lamb: Yared Zeleke's Film at Cannes 2015 (TADIAS)
Cannes 2015: the complete festival line-up (The Telegraph)
Home work: Filmmaker Yared Zeleke's Origin Stories (Manhattan Digest)
Join the conversation on Twitter and Facebook.