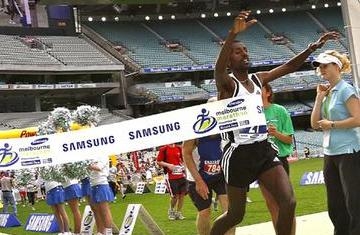 THE AGE
By Len Johnson
Photo: Photo: Luis Enrique Ascui
October 13, 2008
MOST things happen at a rapid pace in Ethiopian distance running.
As of last month, it takes Haile Gebrselassie two hours three minutes 59 seconds to run a marathon. "Kenny" Bekele whips through a 10-kilometre in a little over 26 minutes. On the women's side, Tirunesh Dibaba punches out a five-kilometre in around 14 minutes.
It's nice to report that some things take a little longer, even for the all-conquering Ethiopian distance runners. For example, it has taken them 52 years to win a marathon on the MCG, a feat accomplished yesterday by Asnake Fikadu when he won the Melbourne marathon.
Fikadu is one of an Ethiopian national squad of no fewer than 40 marathoners. They train at Etoto, just outside Addis Ababa, at 2800 metres above sea level.
Fikadu dominated yesterday's race virtually from the start, breaking away after 10 kilometres and steadily increasing his lead. Only the northerly wind, which blew stronger as the morning progressed, caused him any problems, slowing the winning time to two hours 17 minutes 46 seconds. In better conditions, Fikadu may well have threatened Bill Rodgers' race record 2:11:08 set in 1982. Read More.