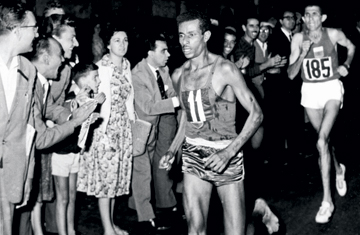 LATimes
By Philip Hersh
October 10, 2008
It was relatively easy to pick the top 10 women's marathoners of all time.
After all, elite women's marathoning is barely three decades old, a period when the women's race was added to the program in all major global and regional championships, and top-flight invitational marathons took root in places such as New York, Chicago, London, Osaka and more.
That means you essentially are judging apples against apples.
Men's marathoning has been around for more than a century, with several distinct eras. Before World War II, there really were only four marathons of lasting consequence: the Olympics, the European Championships, the Commonwealth Games and Boston.
And the great African runners did not begin to have a massive impact on marathoning until the mid-1980s, even if a few had become champions before then. That makes it much harder to compare. But I will use a rule I think applies to all sports comparisons: dominance of an era is a measuring stick for greatness.
And, as I wrote while ranking the women, victories in major championships, not invitationals, weigh more heavily. So here goes, with the dozen most renowned men's marathoners:
1. Abebe Bikila, Ethiopia. The only no-brainer choice. By winning at Rome in 1960 and Tokyo in 1964, he began the African era in distance running. He set world records in both victories -– the only man since 1920 to set a world marathon record in an Olympics. Bikila won 14 of 15 marathons.
2. Frank Shorter, United States. Won Olympic gold and silver medals. His gold in 1972, when an imposter preceded him onto the track for the finish, attracted such attention it helped spur the jogging boom in the United States. Four-time winner of the prestigious Fukuoka Marathon.
3. Samuel Wanjiru, Kenya. History will tell if I have overrated Wanjiru, but he won the 2008 Olympics in a race may have redefined men's championship marathoning tactically. Despite temperatures between 75 and 80 degrees for the final three-fourths of the race, the pace was fast from start to finish, and Wanjiru's winning time of 2:06:32 took nearly three minutes off the 24-year-old Olympic record. It was the first time under 2:08 in any championship marathon. At 21, he is the youngest marathon gold medalist ever. Also won Fukuoka in record time for the 61-year-old race.
4. Mamo Wolde, Ethiopia. Wolde won the 1968 Olympic marathon and, at age 40, won a bronze medal four years later. He also won the first marathon at the All-Africa Games in 1973.