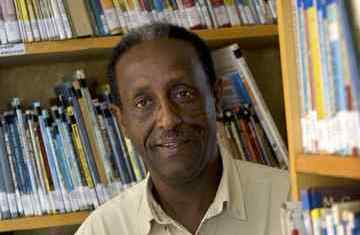 Source: Ethiopia Reads
Denver, CO — Yohannes Gebregeorgis, a native of Ethiopia and children's literacy advocate, has been named a Top 10 Hero of the Year by CNN. Mr. Gebregeorgis was selected from more than 3,000 individuals nominated by viewers throughout the year. Finalists were selected by a Blue Ribbon panel of judges that includes Archbishop Desmond Tutu, Jane Goodall and Deepak Chopra. The Top 10 Heroes will be recognized in CNN's "All-Star Tribute" to air on Thanksgiving.
Yohannes was first recognized as a "hero" by CNN in May for his work championing children in Ethiopia. A former political refugee who worked as a librarian at San Francisco Public Library, Yohannes is the co-founder of Ethiopia Reads, a non-profit organization that works to create a reading culture in Ethiopia by connecting children with books. In a country where 99% of schools have no libraries, Yohannes and Ethiopia Reads are improving lives, one book at a time.
We share this amazing moment with you — our wonderful supporters and friends across the world.
Lear more at: ethiopiareads.org