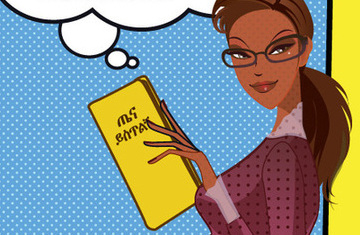 By Tadias Staff
Updated: Thursday, October 9, 2008
New York (Tadias) – Bernos in collaboration with Ethiopia Reads and Tsehai Publishers announced the launch of 'Cocktails for Reading' a social networking event for readers, publishers, authors and writers in the Ethiopian American community. Aimed at promoting reading among Ethiopians, the first gathering is scheduled to take place on October 11th at Touchstone Gallery in Washington D.C.
"The format is simple," Bernos Founder Nolawi Petros tells Tadias. He describes it as "a party promoting reading among Ethiopians with cocktails, speakers, books, and souvenirs thrown in the mix." The Cocktails for Reading website includes a signup email list and takes advantage of online Google and Yahoo calendar reminders as well as popular social networking site Facebook to attract a diverse population of attendees.
The October Cocktails for Reading event will be hosted by Elias Fullmore from the Burntface music group and featured keynote speakers include CNN Hero Yohannes Gebregeorgis of Ethiopia Reads and Elias Wondimu, Founder of Tsehai Publishers and Distributor. The event will also host tables for authors who will be selling their recent books and participating in book signing. Invited participants to include Nebiyou Mekonnen, Fasil Yitbarek, Dej. Zewde Gebresellasie, Andarge Asfaw, Getachew Metaferia, Tewodros Abebe and Tayitu Entertainment.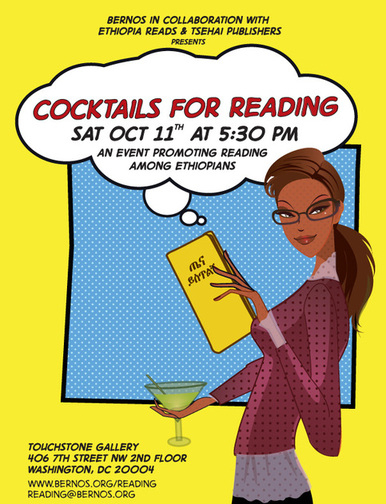 Bernos is an innovative clothing company that creates high-quality, eye-catching t-shirts featuring African themes.
Ethiopia Reads works to improve literacy and create a culture of reading in Ethiopia, in order to bring hope, vision and educational skills to this generation of Ethiopian children. They plant libraries for children to provide quality reading materials, publish books in local Ethiopian languages and train teachers and librarians to nurture a love of reading and books.
Tsehai Publishers and Distributors is a publishing company founded with the intention of spreading currently absent knowledge about underserved communities, such as the African Diaspora.
—
Cocktails for Reading, Saturday October 11th, 2008 at 5:30pm (Touchstone Gallery, 406 7th Street NW 2nd Flr, Washington, DC 20004. For more information about the event please email reading@bernos.org.