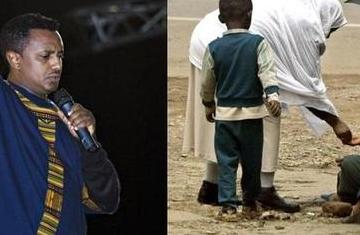 Above: All proceeds from Teddy's concert will go towards
helping Ethiopia's street children and beggars.
AFP
DDIS ABABA — When Teddy Afro leaps onto the stage the crowd goes wild, clapping in the air and singing along with the man seen by many as the voice of Ethiopia's conscience. Fresh from his prison cell, the singer known as Ethiopia's Michael Jackson delighted tens of thousands of fans with his benefit concert for street children on Sunday. "He was in jail for more than a year because of his songs. He wants democracy and freedom for us the Ethiopian people. We love him," shouted Alorachew, a student attending the show at the capital's sports stadium. Read more.