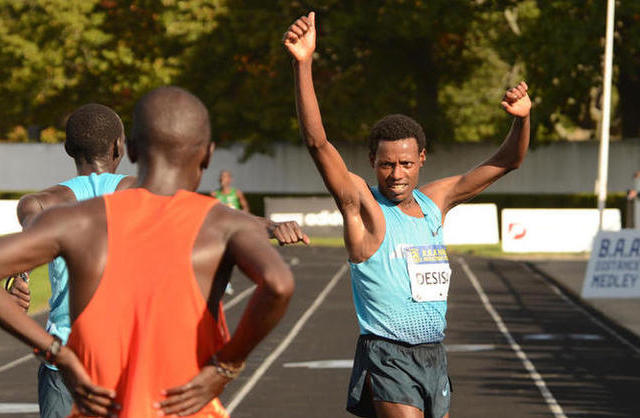 Tadias Magazine
By Sabrina Yohannes
Published: Tuesday, October 15th, 2013
New York (TADIAS) – On a day that began with optimism and ended with crushing defeats for fans of Ethiopian sports in the United States, the athletics world marathon silver medalist Lelisa Desisa delivered victory for the nation at the BAA Half Marathon in Boston, where he had triumphed over twice the distance six months earlier.
The 2013 Boston marathon champion Lelisa set a course record of 1 hour and 34 seconds (1:00:34) in winning the BAA race on Sunday October 13, ahead of Kenya's Daniel Salel and Stephen Sambu, who were both given a time of 1:00:41. Lelisa pulled ahead in the 11th mile of the 13.1 mile race.
"I wasn't feeling well as a result of a cold I caught, but I ran as well as I could," said Lelisa, who has a 2011 personal best of 59:30 for the distance, and ran 2:04:45 in winning the 2013 Dubai marathon at the head of an Ethiopian sweep of the men's and women's race there. Lelisa also overcame illness to medal in his third marathon of the year at the Moscow world championships in August, where he was sick after eating his breakfast on the day of the race.
"After this, my only plan as far as marathons are concerned is to return to Boston, but there will be other races like half marathons," said Lelisa, who is not planning to defend his Dubai title in January.
On Sunday, his race began at 8am local time, and 30 minutes later, the gun went off at the Chicago marathon, where Ethiopia's former world cross country junior champion and Dubai marathon champion Ayele Abshero was a contender and Atsede Baysa was the defending women's champion. At 9am Eastern United States time, Ethiopia's soccer team kicked off its 2014 FIFA World Cup qualifying match against Nigeria in Addis Ababa, with U.S. coverage beginning at 8:50am.
"I thought Ethiopia would win, I would win, and in Chicago, I thought Ayele would be a strong contender," said Lelisa.
By morning's end, however, no Ethiopians had made the podium in Chicago, where Ayele placed sixth and Atsede fifth; and after Ethiopia held off the African champion Nigerian team, remaining tied at 1-1 until the 89th minute of the regulation 90-minute game, Nigeria scored a penalty goal to hand Ethiopia a crushing defeat at home.
"I was watching the game closely," said Lelisa, who is himself a continental champion, having won the 2011 All Africa Games half marathon. "I was watching on the internet, on the Oromia channel. It was going so well until the penalty kick."
Like his countrymen all over the U.S., Lelisa was consumed by the game. "Ethiopians here had it on," he said. "As soon as I finished the race, we were watching on a mobile phone, right there, at the race location, near the medal ceremony. In the beginning, when we scored a goal, I was so happy, and while we were hoping for them to add another goal, the other side scored, and then came the penalty goal."
Ethiopia scored the first goal in the second half of the game with Nigeria tying the score shortly thereafter. "I expected that our team would somehow win, but as luck would have it, the opposition prevailed," said Lelisa, who downplayed any offsetting effect his own victory may have against the day's other losses in much bigger and more widely-watched contests. "The half marathon is my specialty, I've run it for many years, I know what kind of shape I'm running in – even if I did happen to catch a cold in the preceding week – I know what kind of shape I was in," he said.
"But Ethiopia, and football!" he added, his emphasis conveying the passions that surround the game in the nation, despite it being a land of legendary runners. "I was sure that because of the home advantage and the climate, and because we had had a draw against them before, and our team has since gotten much stronger, our team could win."
Ethiopia has never made it to the World Cup and its last victory in the African Cup of Nations came in 1962, making its 2013 position historic. Nigeria, meanwhile, is the reigning continental champion, had four World Cup appearances since 1994, and took Olympic football gold in 1996 and silver in 2008.
But Ethiopian optimism was boosted by the national Walia Antelopes team's run of late and its record in home games. Prior to Sunday, the nation had won all four of its matches in Addis Ababa in the quest for a 2014 World Cup berth, including its game against South Africa. And although Nigeria has the upper hand in head-to-heads between the two countries regardless of the venue, Ethiopia also recorded two notable prior results in home matches against the West African nation, winning 1-0 in 1993 and drawing a 2-2 tie in 2011 during African Cup of Nations qualifying matches.
"It was a good performance," said Lelisa of the Walias' game Sunday. "I mean, they've been improving from the past. It's just that the opposing team came and defeated us at home, but really, it was a good performance." There were notable Ethiopian athletic performances elsewhere in the world on Sunday. In the Netherlands, Yemane Tsegaye led an Ethiopian sweep at the Eindhoven marathon, and Yenew Alamirew won over 4 miles with former marathon world record holder Haile Gebrselassie dipping down in distance to take third. And Ethiopia will have another chance to play against Nigeria to determine which country goes to next summer's soccer World Cup in Brazil; but the Nigerian powerhouse which is already ahead will enjoy the home team advantage in that November 16 qualification match, making Ethiopia's loss on Sunday a critical blow.
Lelisa's first Boston win, in the April 15 marathon, came on a day that was devastating in a literal sense, when bombs exploded on the race course, hours after the elite runners' race ended. When he returned two months later for the June 23 BAA 10K, Lelisa expressed his sympathy by giving his marathon medal to the city of Boston, where his gesture was appreciated.
His world championship medal run on August 17 in Moscow, however, was followed by his teammate Tadesse Tola's marathon bronze medal and his compatriots Meseret Defar's gold and Almaz Ayana's bronze in the women's 5000 meters on the same day, after which the team was given a hero's welcome in Addis Ababa on August 21. "It was a wonderful reception," said Lelisa. "They didn't even want us dispersing to our homes and put us up in a hotel, and in the morning, a bus took us around the streets where people stood and cheered."
On Sunday, Lelisa also received cheers from Bostonians, and he'll be looking to be the first to receive the same cheers at the end of another major marathon there on April 21, 2014.
—
Related:
World Cup 2014: Ethiopia 1-2 Nigeria (Video Highlights)
Lelisa Desisa at home in record win (Boston Herald)
Join the conversation on Twitter and Facebook.