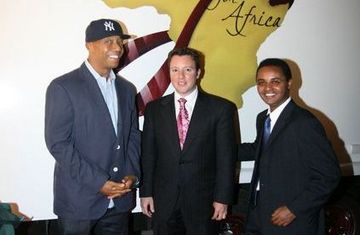 Photography by Johnny Nunez
By Tadias Staff
New York – U.S. Doctors for Africa (USDFA), founded by Ethiopian-American social entrepreneur Ted Alemayuhu, presented its 1st Annual New York Gala Benefit last night, October 17th, at Cipriani Wall Street (55 Wall Street), honoring extraordinary philanthropists, including Russell Simmons (Chairman/CEO, Rush Communications).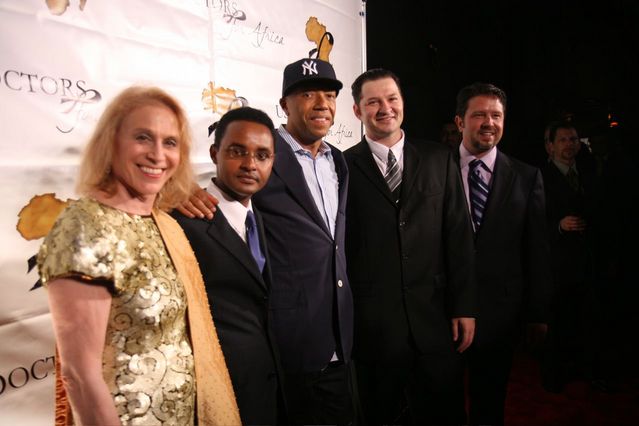 Dr. Judy, Ted Alemayhu, Russell Simmons and USDFA's Anthony Severini and Lee Sorensen. Photo by Johnny Nunez
The evening included a performance by Alex Band of The Callingand teen band Creation, messages from screenwriter John August and USDFA founder Ted Alemayhu; as well as a video presentation by fromcomedian/actor/producer Bill Maher (HBO's Real Time with Bill Maher). The evening also featured a live auction and four-course gourmet dinner.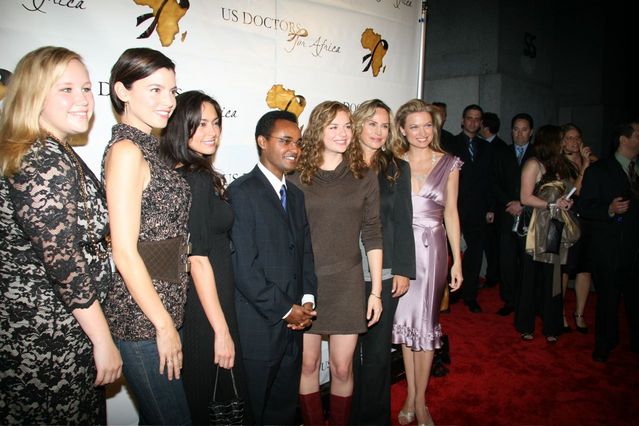 Founder of USDFA Ted Alemayhu with the cast of "Guiding Light." Photo by Johnny Nunez
Proceeds from the gala will benefit USDFA's proposed $70 million Mobile Clinic Initiative.
"This event is one of many", says Ted Ted Alemayhu, Founder & CEO of USDFA. "Including a recent benefit in Los Angeles honoring actor Chris Tucker—helping us bring 200 mobile clinics to African citizens in rural areas where medical services are currently unavailable."
The Vice President of Ghana, Alhaji Aliu Mahama, has joined forces with USDFA and is overseeing the project by helping arrange all logistical needs and necessary governmental partnerships.
The first mobile clinic being deployed to Ghana was onsite last night for guests to tour.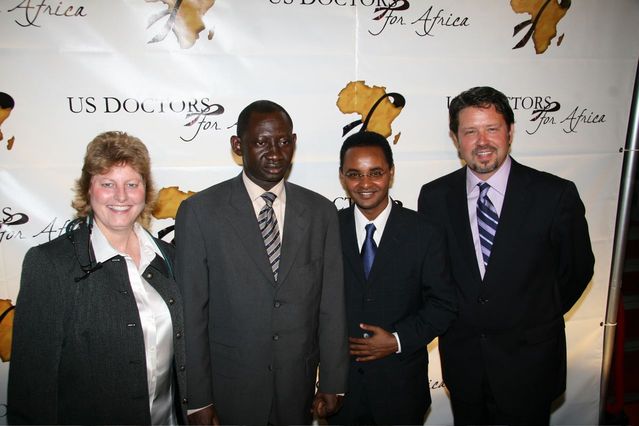 Volunteer medical staff Carmen Walker gave tours of the mobile clinic; General Counsel of Ghana Joseph Ngminebayihi; Ted Alemayhu and USDFA's Lee Sorensen. Photo by Johnny Nunez
Celebrities and VIPs that attended included honorees Russell Simmons, Warren Rosen (Founder/Chairman, Rosen Companies and Harmony Insurance Brokerage), Eric Pulier (Executive Chairman/CEO, SOA Software) and Paul Hunter (Founder/CEO, Hunter Manufacturing LTD), as well as screenwriter John August ("Charlie and the Chocolate Factory," "Charlie's Angels: Full Throttle"), USDFA founder/CEO Ted Alemayhu and performer Alex Band (of The Calling).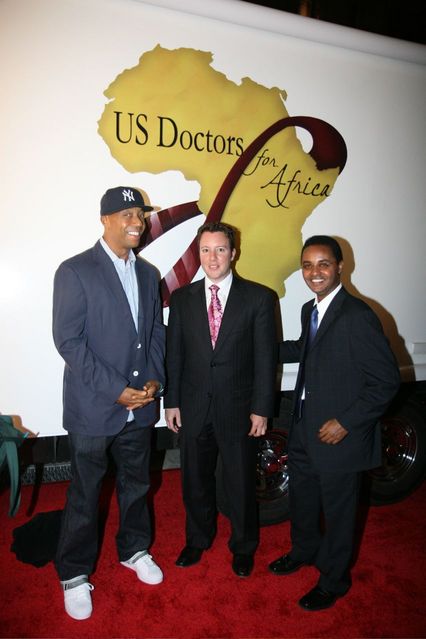 Russell Simmons, guest and Ted Alemayhu outside mobile clinic. Photo by Johnny Nunez
Other guests included Leighton Meister (co-star of "Gossip Girl" & USDFA Host Committee
member), director Bret Ratner, Yankees alum Jim Leyritz, Miss Info (on-air radio personality Hot 97 FM, "MTV News"), Shon Gables (Host, "Black Enterprise Business Report"), cast members of "Guiding Light": Ricky Paull Goldin, Nicole Forrester, Michelle Ray Smith, Jessica Leccia, Caitlin Zandt, Marcy Rylan, Rachel Smith (Miss USA 2007), and Liben Eabisa (Founder & Publisher of Tadias).

Ted Alemayhu and Dr. Judy inside the mobile clinic being deployed to Ghana. Photo by Johnny Nunez
Tickets for the event ranged from $500.00 – 1,000.00 per seat.
Source: USDFA
Related: African First Ladies Partner with USDFA (Tadias)