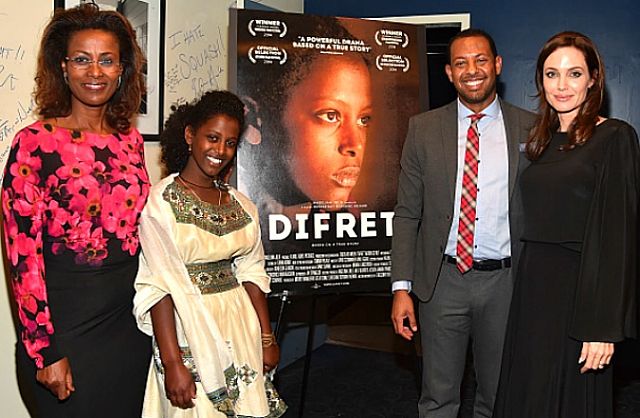 Tadias Magazine
By Tadias Staff
Published: Tuesday, October 20th, 2015
New York (TADIAS) — Difret is opening in several U.S. theatres this Fall kicking off with a screening at Lincoln Plaza Cinemas in New York City on Friday, October 23rd.
The award-winning Ethiopian film, which premiered at the Sundance Film Festival, also opens in the Washington, D.C. metropolitan area at AFI Silver (Silver Spring, MD), and on the West Coast at San Diego's Digital Gym on October 30th, 2015.
The NYC opening weekend includes Q&As with the real-life inspirations for Difret, Meaza Ashenafi and Aberash Bekele, as well as Tizita Hagere (the actress who plays Hirut), Director Zeresenay Berhane Mehari, and Executive Producer Julie Mehretu in conversation with Marcus Samuelsson.
Difret is "based on the inspirational true story of a young Ethiopian girl and a tenacious lawyer embroiled in a life-or-death clash between cultural traditions and their country's advancement of equal rights," the press release states. "When 14-year-old Hirut is abducted in her rural village's tradition of kidnapping women for marriage, she fights back, accidentally killing her captor and intended husband. Local law demands a death sentence for Hirut, but Meaza, a tough and passionate lawyer from a women's legal aide practice, steps in to fight for her. With both Hirut's life and the future of the practice at stake the two women must make their case for self-defense against one of Ethiopia's oldest and most deeply-rooted traditions. DIFRET paints a portrait of a country in a time of great transformation and the brave individuals ready to help shape it."
DIFRET release trailer from Tambay A Obenson on Vimeo.
—
If You Go:
Difret opens in NYC on 10/23
Lincoln Plaza Cinema
1886 Broadway New York, NY 10023
The Box Office opens 20 minutes before the first show.
For showtimes call 212 757-2280
Customer Service Information: (212) 757-0359
Buy tickets here.
Opening dates for other cities:
November 4, 2015
DIFRET Opens in Winchester, VA at the Alamo Drafthouse Cinema
November 6, 2015
DIFRET Opens in Hartford, CT at the Real Art Ways
November 9, 2015
DIFRET Plays in Anchorage, AK at the Bear Tooth Theaterpub (one night only)
November 13, 2015
DIFRET Opens in
Columbus, OH at the Gateway Film Center
Minneapolis, MN at the St. Anthony Main
Vancouver, WA at the Kiggins Theater
Hanover, NH at the Hopkins Film Center (one night only)
November 18, 2015
DIFRET Plays in Boulder, CO at the International Film Series (one night only)
November 20, 2015
DIFRET Opens in Denver, CO at the Sie FilmCenter
November 30, 2015
DIFRET Plays in Vicksburg, MO at the Strand Theater (one night only)
Related:
Julie Mehretu on Helping to Make the Powerful Ethiopian Film Difret (Vogue)
—
Join the conversation on Twitter and Facebook.