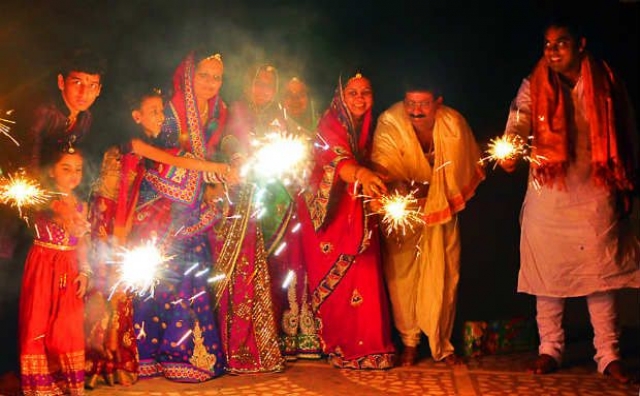 ADDIS ABABA: This year in Ethiopia, the celebration of Diwali, the Indian festival of lights, started early in a unique way with many new participants, both Indian and Ethiopian.
People like Muluken Belay, 35, an accountant at a private company, who have never been to an Indian function used to wonder how the festival looked like in reality after he saw it in movies. His dream would not have come true had it not been for Raju Kumar Kevelray Pandit, a fourth-generation Indian in Ethiopia who took the initiative to celebrate Diwali with his Ethiopian friends.
"The Indian community in Ethiopia with their deep-rooted presence since the times of the emperors in many aspects made the locals feel like they are part of its family", Raju told IANS.
"My grandfather was the advisor for King Hailesellasie, my father used to work for the United Nations Economic Commission for Africa (UNECA) and I work at a private Indian company serving Indian and Ethiopian community".
He wanted to organise an event where Indians could mix with Ethiopians to share and explore more about each other's cultures. With the support of his friend they picked a restaurant known for its unique ambiance, Addis Down Town Capri Restaurant and Lounge, for this special event.
"When he came to our place proposing the idea we embraced it because we knew it was going to be special," Demelie Arega, managing director of the restaurant, told IANS. "This is the first time we collaborated with any community and India is rich with its music and colourful with its presence. Indeed it is a great experience".
The restaurant prepared a special menu specifically for the celebration for everyone to enjoy. The place was decorated with costumes, flowers and other items to reflect Bollywood-themed night . The Indian flag that was hung on the wall behind the DJs was hard to miss.
Participants like Muluken and his friends were happy to pay the 100 birr ($5) entrance fee for it was not something they would get all the time.
"I did not think I would actually witness this here in Addis Abba. I have been to many Indian restaurants and have so many Indian friends, but I have never seen them celebrate a function or dance," Muluken told IANS smiling.
Read more at The New Indian Express »
—
Join the conversation on Twitter and Facebook.