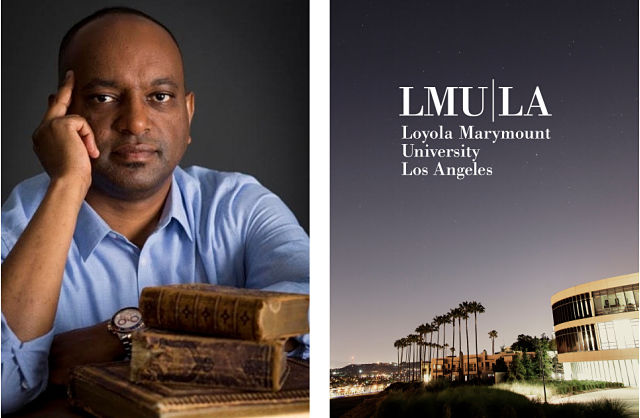 Tadias Magazine
By Tadias Staff
Updated: October 27th, 2018
New York (TADIAS) — Ethiopian-American publisher Elias Wondimu has been named the recipient of the 2018 Hidden Heroes Recognition Award at Loyola Marymount University in California. The annual award is given by the university's Center for Reconciliation & Justice to "individuals and groups who exemplify justice and reconciliation in their lives" LMU stated. "Each awardee will be honored through the telling of their story in a dramatic performance."
Elias, who is Founding Director of TSEHAI Publishers at the Marymount Institute for Faith, Culture, and the Arts at LMU, is one of five honorees chosen from the nominated faculty, staff, alumni, and students from Loyola Marymount University and Loyola Law School.
"This year's theme for the Hidden Heroes Recognition is 'reconciliation,'" the announcement said. "The awardees selected are those who work mostly 'under the radar' to build bridges for justice and repair broken human relationships, similar to the life of St. Joseph, patron saint of the CSJ Community and its LMU Center for Reconciliation and Justice."
Tsehai Publishers celebrated its 20th anniversary last October alongside the launch of its first book under its new imprint, Harriet Tubman Press, entitled Voices from Leimert Park Redux. Tsehai Publishers is the only African/African-American owned press that is housed in a U.S. university (Howard University Press closed in 2011).
Elias told Tadias that he is on his way back to the U.S. from Ethiopia to accept the award after having recently returned in September to his homeland for the first time in almost 25 years following Prime Minister Abiy Ahmed's invitation to exiled Ethiopians to come home. Elias is currently a member of the Advisory Council of the recently launched Ethiopian Diaspora Trust Fund.
LMU's press release added that "as part of the recognition award, Wondimu's life story will be enacted on stage as a dramatized narrative as written by David Johann Kim and acted by Desean Terry. The award ceremony and performances will take place on Saturday, November 3rd at Loyola Marymount University at Murphy Hall."
—
If You Go:
To RSVP click here. This event is free and open to the public.
Join the conversation on Twitter and Facebook