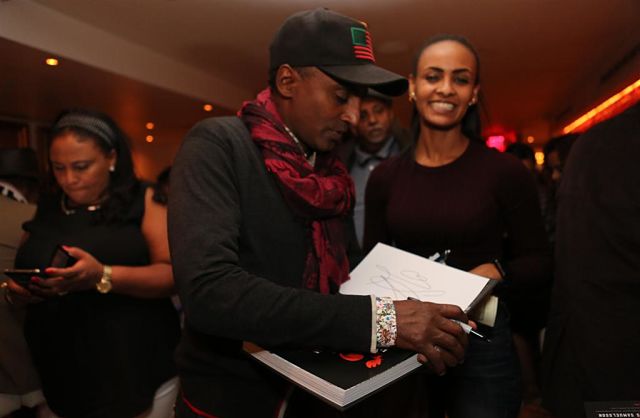 Tadias Magazine
By Tadias Staff
Published: Friday, October 28th, 2016
New York (TADIAS) — As part of the Tadias Salon Series Tadias Magazine hosted Marcus Samuelsson at SEI in DC on Wednesday, October 26th for a book signing and afterparty celebrating the release of his latest publication entitled The Red Rooster Cookbook: The Story of Food and Hustle in Harlem.
Below are photos from the event:
"When chef Marcus Samuelsson opened Red Rooster on Harlem's Lenox Avenue, he envisioned so much more than just a restaurant. He wanted to create a gathering place at the heart of his adopted neighborhood, where both the uptown and downtown sets could see and be seen, mingle and meet – and so he did, in a big way. Ever since the 1930s, Harlem has been a magnet for more than a million African Americans, a melting pot for Spanish, African, and Caribbean immigrants, and a mecca for artists. Named after a historic neighborhood speakeasy, the modern Rooster reflects all of that, from the local art showcased on its walls, to the live music blaring from its performance spaces, to the cross-cultural food on its patrons' plates and the evocative cocktails in their hands. THE RED ROOSTER COOKBOOK is as lush and layered as its inheritance. Traditions converge in these pages, with dishes like Brown Butter Biscuits, Chicken and Waffles, Jerk Bacon and Baked Beans, Latino Pork and Plantains, Chinese Steamed Bass and Fiery Noodles, Ethiopian Spice-Crusted Lamb, and Rum Cake. Lyrical essays and intimate interviews – including a foreword by New Yorker critic Hilton Als and conversations with unsung neighborhood heroes – convey the flavor of the place. Stunning archival and contemporary photos document Harlem's past, present, and future."
—
Related:
Marcus Samuelsson Releases "The Red Rooster Cookbook" with National Tour
Join the conversation on Twitter and Facebook.