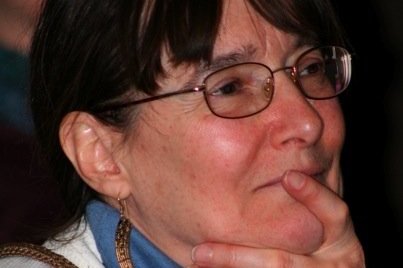 Tadias Magazine
By: Martha Z. Tegegn

Published: Thursday, October 29, 2009
Washington, D.C. (TADIAS) – "Why shouldn't a girl have a pair of sneakers?" That's the question that Dr. Patricia E. Ortman, a Washington, D.C.-based retired Women's Studies Professor and artist, posed to herself as she embarked upon the task of raising money for Girls Gotta Run Foundation (GGRF), a volunteer organization she helped establish three years ago to provide new shoes for girls in Ethiopia who are training to be runners.
Dr. Ortman was inspired by a 2005 Washington Post article by Emily Wax entitled: Facing Servitude, Ethiopian Girls Run for a Better Life. The piece highlighted the grim realties faced by young girls in Ethiopia, including having one of the lowest rates of female enrollment in primary schools. Young girls in Ethiopia also face one of the highest rates of childbirth injuries in the world. According to the United Nations Population Fund 1 in 27 mothers in Ethiopia face the risk of dying during labor. In comparison, as The Huffington Post notes in the introduction of World Editor Hanna Ingber Win's Mothers of Ethiopia series, "In the U.S., a woman has a 1 in 4,800 chance of dying from complications due to pregnancy or childbirth in her lifetime." Perhaps Wax's most powerful line comes from a 13-year-old girl named Tesdale Mesele who says: "I also run because I want to give priority to my schooling. If I'm a good runner, the school will want me to stay and not be home washing laundry and preparing injera."
"After reading that article," Ortman says, "I was faced with two choices: to go "oh well" and go about my life, or to get involved."
Getting involved she did; she called a couple of friends and expressed her interest in starting a program to help Ethiopian girls stay in school. "Originally" Ortman says, "I wanted to do this as a project, and as people were coming [up to me] and saying they wanted to help, I started calling a lot of international woman organizations." But the overall lack of interest by these organizations, whose names she would not mention, left Ortman and her friends with little choice but to start Girls Gotta Run Foundation (GGRF).
Despite the obstacles, there was a light at the end of the tunnel for Ortman. In recent years, running has emerged as a path to success for many girls in Ethiopia. Female athletes, such as double Olympic champion Tirunesh Dibaba and her colleague Meseret Defar, are blazing a trail for a new generation of aspiring female runners. Today, some of the highest paid athletes in Ethiopia are women.
"It takes a lot of personal gumption," says Ortman. "Some of these girls have predetermined lives. Nothing is expected of them but marriage, a lifetime of labor."
Ortman argues that proper running shoes are the most important gear an aspiring athlete can own to remain healthy. "In some cases, girls are forced to give up on their dream of becoming professional athletes due to injuries caused by lack of proper attire and shoes," Ortman says. "That's the big reason why GGRF focuses on sending them money to buy running shoes."
Asked why GGRF sends the girls money instead of shoes? Ortman answers: "Our goal is not just to help girls to have running shoes. By sending them money we avoid the huge shipping cost, and we also help the Ethiopian economy by allowing them to buy new sneakers from local merchants."
GGRF has developed creative partnerships with artists and athletes to raise money. The organization hosts several exhibitions annually featuring donated art work, and athletes participate in local meets to raise money. Sheena Dahlke, an athlete who also doubles as the foundation's Secretary, says she finds it personally rewarding to take part in running competitions to support the young women in Ethiopia. "I see the girls that GGRF supports as intelligent, driven and strong. The girls are also very inspiring. They inspired me to raise money for them while I trained for the Boston Marathon in 2009," she said. "It was motivating to imagine them training for their races and I wanted to help them to have the resources and equipment that they needed. For them, running is a way to escape poverty and avoid early pregnancy. In many cases it also gives them a chance to continue their education which gives them hope beyond their running careers."
Today, GGRF sponsors forty girls participating in three teams: Team Tesfa, The Semien Girl Runners, and Team Naftech.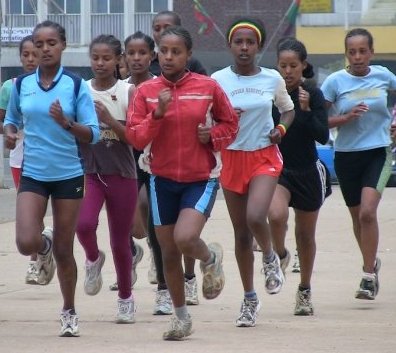 Members of Team Tesfa (Photo by Sarah Murray).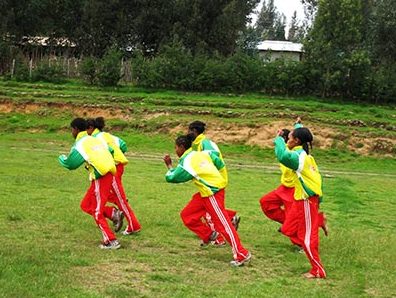 The Simien Girl Runners training in July 2008. (Photo: GGRF).

Menna, program head for Team Tesfa, Olympic medalists Meseret
Defar, and Meseret Birhanu, member of Team Tesfa. (GGRF).
The largest team, Team Tesfa, was founded by Tesfa Foundation, an organization that funds early childhood education for disadvantaged children in Ethiopia. We spoke with Dana Roskey, one of the Directors of Tesfa during his recent trip to Washington D.C. Roskey was the first individual to team up with GGRF to create and oversee the team's activities in Ethiopia. "The situations for some are really extreme, it is not only a matter of running – it becomes a survival issue," Mr. Roskey told Tadias. "Assisting them means offering them an opportunity to be leaders of their own life."
And what is his organization's relationship with GGRF?
"GGRF covers some of the nutrition, coaching and transportation costs," he said. "And they are our major gear providers." But Mr. Roskey is quick to note that running alone cannot be the solution. "Girls are more vulnerable to exploitations and misfortune, and their fate is somewhat limited," he explained emphasizing his organization's focus in primary education. "Because ultimately running is not their only destiny, there are other options."
Garrett Ash, Co-Founder and Director of Running Across Borders (RAB), a non-profit that works to bring economic success to East African youth through running, says GGRF sponsors five of its female runners in Addis Ababa, all of whom come from rural parts of Ethiopia and are selected because they show both talent and passion for long-distance running. "Our first project is focused specifically on Ethiopia and we have established a training facility in the Ayat area of Addis Ababa, which has provided 14 Ethiopian youth (9 male, 5 female) with access to opportunities in athletics, education, and vocational training," he said. "GGRF provides us with donations that cover food and also transport to training venues like Sulutaa and Sendafa (regions in Ethiopia) for all 5 of the female athletes in our program and these are some of the most significant costs that we face when we add girls to the program, so to have a single foundation that covers these costs for our entire female contingent is a huge asset."
Ortman agrees with Mr. Roskey that running alone can't serve as a one-way-ticket to success. "In most cases the girls would be lured to drop out of school and to join [a professional team], and eventually they will get worn out," says Ortman. "All of the teams have arranged for the girls to go to school and stay in school," she adds. "If they don't make it as runners they will have an alternative plan to fall back on."
Ortman, who has yet to visit Ethiopia, says that the ultimate goal is to empower these children. "We have a pact with the girls that if and when they become successful we expect them to 'pay up,' not necessarily to us, but they need to help people in their country – girls who want to follow in their footsteps."
–
If you would like to help or join GGRF, you may reach Dr. Patricia Ortman at pat@girlsgottarun.org. Click here for the Foundation's calendar of events. Check out GGRF's current art exhibition at Friendship Heights Village Center (4433 South Park Avenue Chevy Chase, Md 20815).
Related:
Video: Conversation with Dr. Patricia E. Ortman About 'Girls Gotta Run
Join the conversation on Twitter and Facebook.