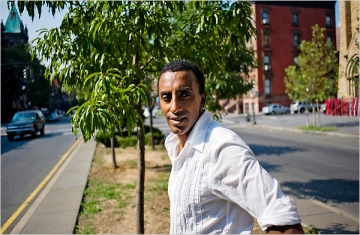 Above: Marcus Samuelsson near his new Red Rooster in
Harlem. (Photo: Christian Hansen for The New York Times)
Tadias Magazine
Events News
Published: Sunday, October 31, 2010
New York (Tadias) – Red Rooster, Marcus Samuelsson's highly anticipated new restaurant in Harlem, will open later this month.
Located at 310 Lenox Avenue, between West 125th and West 126th streets, Red Rooster pays tribute to a legendary speakeasy of the same name from the Harlem Renaissance.
For Samuelsson the goal is bigger than fine dining . "I always wanted to live in Harlem. Harlem was the community that I knew about when I was in Sweden. It was what I knew about America and African-American culture. I've always thought about Harlem. Harlem is not going to change because we talk about it. It's going to change because we do something," he had said during an interview with Tadias Magazine following the White House dinner he prepared for the Obamas' first State Dinner last year. Samuelsson has chosen Harlem as his home and states: "I put my money in the economy. For me it's not a PR stint. For me it's a lifestyle. I sold my place and moved to Harlem to experience it."
BlackAtlas.com, the premier travel website for African Americans, has produced the following video of Samuelsson giving a tour of Harlem, starting from the location of his new restaurant and passing by several popular spots including the Abesha-owned cafe Settepani, a popular hangout for Harlem's young elite.
BlackAtlas will also hold a pre-opening celebration of Red Rooster in mid-November and invite you to participate. You may have a chance to win two tickets to NYC for the event.
For more details email Editor@blackatlas.com or click here to register.
Video: BlackAtlas.com with Chef Marcus Samuelsson

Video: Be the First to Dine at Chef Marcus Samuelsson's Red Rooster Harlem