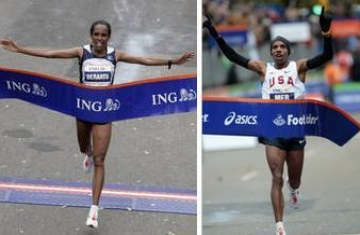 Above: Derartu Tulu of Ethiopia and Eritrea-born Mebrahtom
`Meb` Keflezighi of the U.S., have won the 2009 New York
City Marathon. Click here for video.
The New York Times
By LIZ ROBBINS
Published: November 1, 2009
Derartu Tulu has raced to history throughout her career, and on a cool, cloudy day of surprises for the New York City Marathon, the 37-year-old runner charged to a remarkable new milestone. She became the first Ethiopian woman to capture New York's laurel crown in its 40-year history, 17 years after becoming the first black African woman to win a gold medal in the Olympics in the 10,000 meters. Read more.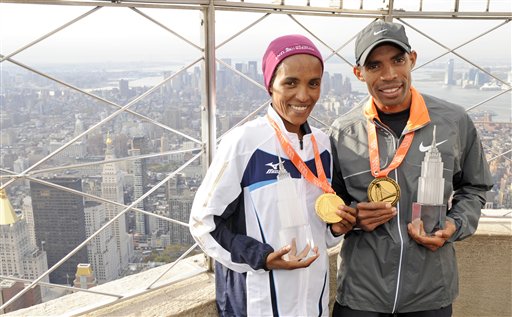 New York City Marathon winners Derartu Tulu, of Ethiopia, left, and Meb Keflezighi,
pose for photos on the 86th floor observatory of the Empire State Building, Monday,
Nov. 2, 2009, in New York. (AP Photo/Henny Ray Abrams)
About Derartu Tulu



Ethiopia
Age: 37
One of history's all-time great distance runners, Tulu has excelled in track, road racing, and cross country. She is a two-time Olympic gold medalist at 10,000 meters (1992 and 2000), and she won the 2000 IAAF World Cross Country Championship. She finished fifth in her debut marathon (Boston, 1997) and set her personal record of 2:23:30 when she finished fourth at the 2005 IAAF World Championships Marathon in Helsinki. Tulu is making a comeback; she finished fourth in 1:10:33 at the ING Philadelphia Distance Run half-marathon this September. (Source: ING New York City Marathon).
Video: 1992-Barcelona Derartu wins Gold

Related: Keflezighi's 'U.S.A.' Breaks the Tape
The New York Times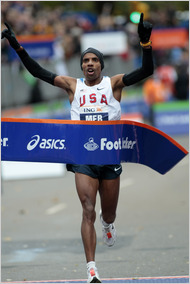 A child immigrant from war-torn Eritrea, and one of 11 siblings in a village with no electricity, Keflezighi traveled an arduous journey to the finish line here and carried decades of American hopes with him. Read more.