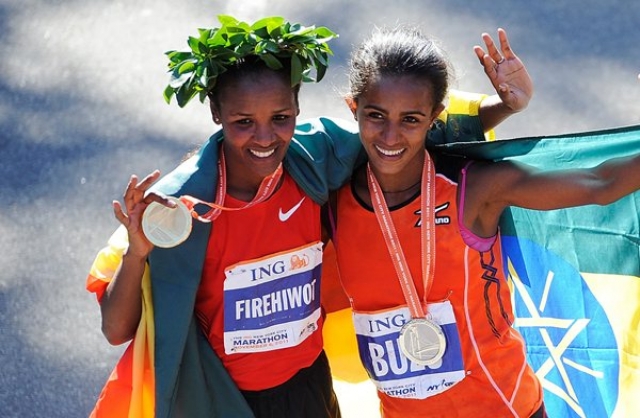 Tadias Magazine
By Sabrina Yohannes
Published: Friday, November 1st, 2013
New York (TADIAS) — Frehiwot Dado and Buzunesh Deba have a lot in common. They finished in the top two places at the 2011 New York City marathon, with Frehiwot winning in 2:23:15 and Buzunesh finishing just four seconds later. They are both from the town of Asela in the central Ethiopian Arssi area, where they both belonged to the athletics club sponsored by the police force. And while chatting over a meal on Wednesday, a few days before running the 2013 NYC marathon on November 3, they found they share the same mortal fear.
"My biggest fear in life is snakes," said Firehiwot. "I've never seen one, but I don't even want to see them on TV." The New York-based Buzunesh echoed the same fear, but she had encountered one on a training stint in Albuquerque, New Mexico. "The place is full of snakes!" she said, relaying an incident where she and her husband and trainer Worku Beyi went out running early in the morning, a time she thought the cooler weather would keep the reptiles away. "It was huge, as long as a crocodile, and it had doubled back on itself," she said. "I screamed." Worku picked up a can of Coca Cola off the lunch table. "The snake's girth was about the size of this can," he said. Buzunesh had never wanted to leave her beloved Bronx, where she lives and trains most of the year, anyway, and the encounter became one more reason to wish to head back. "I wanted out of New Mexico," she said.
As Buzunesh described the snake, Firehiwot shuddered and looked away. "I don't even like hearing the word 'snake'," she said. Apart from the despised serpent, she has few fears, and none going into a race in general or the upcoming New York marathon in particular. "Sometimes, people have unfortunate experiences," she said. "One can choke on a swig of water, or get stitches, but you try to take precautions against such things," she said. "Although racing is tough, you rely on your training and you hope to reap the results."
Following the 2013 Boston marathon bomb explosions, security concerns are an inevitable topic of conversation at marathons and road races this year, but Frehiwot said she's not worried about it. "I had heard of the Boston marathon [incident], and have seen it," she said. "People from my country were running as well, but my focus at this marathon is to win, and I wasn't in the least bit perturbed."
Frehiwot and Buzunesh finished ahead of the then-reigning London marathon champion Mary Keitany of Kenya in the 2011 New York marathon, and the 2013 race features top Kenyans Edna Kiplagat, the two-time world and 2010 New York champion, and Priscah Jeptoo, the Olympic silver medalist and current London marathon winner. "Kiplagat is an amazing athlete, and I am her fan, but Buzunesh and I have been training tremendously, and we are hoping with the help of God that we will keep them in check," said Frehiwot.
The two Ethiopians worked together to rein in and overhaul Keitany in 2011. "After a certain amount of distance, we started talking, and Buzunesh was getting me water," said Firehiwot. "If there is anything I will never forget, it's that day because Buzunesh and I grew up together. We were very close friends and running with her was the happiest day of my life. I love her very much." The women had parted ways when they left Asela years ago, with Buzunesh eventually settling in New York, where the marathon brought them together. "Oh, 2011, I saw her on the list of names, and I was so happy," said Buzunesh. "I missed her."
The following year's marathon was eventually canceled due to superstorm Sandy, but Firehiwot had been forced to pull out ahead of the race due to injury. "I got a blister on my heel," she said. "Then, after having taken a break, I resumed with harder training." She placed third in a half marathon in Lisbon on October 6, her last race before Sunday's marathon. "I wasn't so well-prepared for it, as I was training for this marathon," said the 2012 NYC half marathon champion and course record-holder. "Since then, my training has been good, praise God."
"The speed endurance work has increased," her coach Haji Adilo said, comparing her current training and readiness to 2011. "The mileage is the same and the rest is more or less the same. But since the speed endurance work covered in training is harder, my guess is that she can run better."
"I'd like to run faster than last time, as that was my personal best," said Firehiwot. "It's a tough race, and there are strong competitors. I know I have to watch my pace and run a smart race."
The 2011 Los Angeles and San Diego marathon champion Buzunesh also ran a personal best in New York that year, something she has aimed to do at successive marathons. "This time too, God willing, I hope to improve my personal best," she said. "But if the others are running at an excessively high pace, I'll stay on my own pace and won't follow them."
Her years since 2011 have also included injury, causing her to pull out of the 2012 Boston marathon, where Firehiwot was fourth, the only non-Kenyan in the top six. Buzunesh ran the 2013 Houston marathon in January. "Before the race, especially three days before it, I wasn't feeling well," she said. "I had abdominal pain and bloating. But I guess because I was well-prepared, I still managed to run well, and was second in 2:24. I was very pleased with the results."
She won a 7-mile race in Spokane, Washington in May. "One week later, I strained a muscle in my right leg," she said. "I didn't train for one month and one week." She ran a few shorter road races after recovering and has since been training for New York. "I have prepared very well," she said. "If God gives me the strength, I'm hoping for victory."
Then she and her companions all laughed as she added: "Everyone is looking for victory. I want to win, she wants to win." The three-time former Rome marathon winner Firehiwot, who has remained the NYC defending champion for two years due to the 2012 cancellation, concurred. "I've trained hard and pray that God would help me to be successful," she said.
Winning in athletics is something Firehwiot dreamed of as a youngster, with no less a local role model than the legendary two-time Olympic champion and former marathon world record-holder Haile Gebrselassie, who is also from Asela and who serves as inspiration for all Ethiopian athletes of recent decades. "Haile is an amazing athlete whom we love and admire, and since he's from our hometown we are even prouder of him," said Firehiwot. "We all wanted to be him."
Frehiwot lives and trains in the Ethiopian capital currently and doesn't head back to Asela too often. "I was born there and grew up there, and my mother and father are there, but they come and stay with me," she said. Buzunesh has also not been back in a long time, but the two chatted about local developments, like the Asela stadium that replaced the old dirt track they knew. "I see photos when my friends who are there post them on Facebook," said Buzunesh. Their family members there will be watching the New York City marathon on satellite television, the women said.
"We'll write a new chapter on Sunday, I hope!" said Firehiwot with a laugh.
—
Related:
Top 5 Women To Watch At 2013 NYC Marathon on Sunday
Top-5 International Men To Watch At 2013 New York City Marathon
—
Join the conversation on Twitter and Facebook.