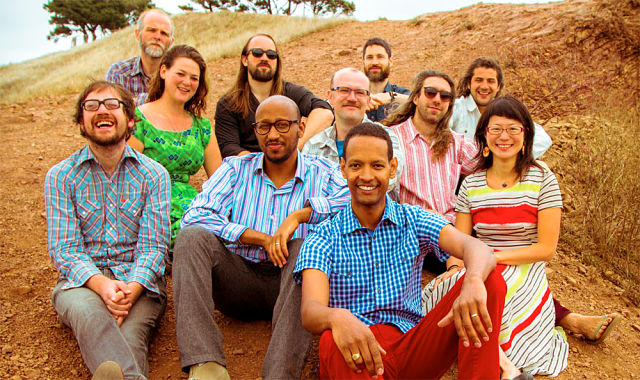 Led by Ethiopian-American saxophonist Danny Mekonnen and fronted by charismatic vocalist Bruck Tesfaye, the Debo Band serves up a bold reimagination of Ethiopian popular music that conjures up 1970s Addis Ababa with "fierce, jagged, complex, and galvanizing music" (New York Times).
This big band doesn't just cover neglected tracks from around the world, they rearrange them and up the ante. The process can get wildly imaginative, finding flights of fantasy in underappreciated historical moments, be it Duke Ellington's travels through Ethiopia or the musical impact of Haile Selassie sending Ethiopian soldiers to fight in the Korean War. Earthy dance floor beats merge with psychedelic effects, rock drive, and spot-on brass—injecting vintage tracks with new life and purpose.
—
If You Go:
Lincoln Center Presents Debo Band
Thursday, November 3rd, 2016 7:30 pm Free
61 W 62nd St (Broadway between 62nd and 63rd Streets)
New York, NY 10023
212.875.5350
Seating is available on a first-come, first-served basis (FREE)
www.lincolncenter.org
Join the conversation on Twitter and Facebook.