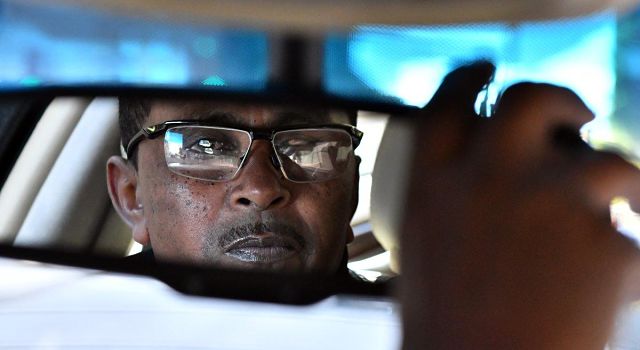 Friday, November 4, 2016,
The loneliness of the long-distance runner: A former NYC Marathon champion–turned cabbie struggles to get his family out of strife-ridden Ethiopia
When Tesfaye Jifar sits still, his mind drifts to dark places. So he prefers to remain in motion. It's easier not to think about any of it: The elite athletic career that accelerated with uncommon speed, and then ended almost as quickly. The livery cab that he now drives throughout Boston, sometimes for 16 hours a day or more. The tense situation back home in Ethiopia, where the government — trying to stifle dissent in the city where Jifar's wife and children still live — declared a state of emergency last month. And most of all, the loneliness.
Sitting in the driver's seat of his 2007 Lincoln Town Car, Jifar sighs, adjusts his glasses and runs a hand through his close-cropped, salt-and-pepper hair. It's only noon on this October Tuesday, but he has already been driving for more than eight hours. "When I go home," he says of the bedroom in Cambridge, Mass., where he sleeps in his older brother's house, "my family, they are not with me. I don't like to worry, so I prefer to work. When I am here, I feel free. When I go home, I feel bad. For the country, for my family, missing them." He stops for a moment and sighs again. "Everything."
We stop at a light, and the car stalls. Jifar turns the key, and the engine coughs before finally revving again. For a moment, it seems like the beginning of another crisis, one he can barely afford, but we are soon back in motion.
I'd met Jifar four months earlier, in this very car, while on assignment in Boston. A few minutes into a ride to Logan Airport, he asked where I was from. "New York," I told him.
"Do you know about the New York City Marathon?" he said, handing me his smartphone, which showed a photo of a man crossing the finish line with arms raised in the air. I looked at him, then at the picture, then back at him.
"Wait, you won the Marathon?" I rubbed my eyes and saw his face smiling back at me in the rearview mirror. Same lean body as the runner in the picture. Same meticulously trimmed moustache. Same right eye, glassy and half-closed.
"Yes," he said, pulling up his Wikipedia page on his phone, quickly and without compromising his focus on the road, as if he has done this a thousand times. He passed it back to me.
—
Join the conversation on Twitter and Facebook.