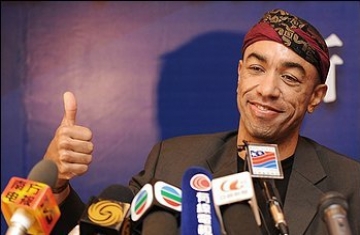 Above: President Obama's half-brother Mark Okoth Obama
Ndesandjo at press conference during an event to launch his
new book Nairobi to Shenzhen in Guangzhou, China, on Nov.
4, 2009. His academic accomplishments parallel that of his
older brother: he holds a bachelor's degrees in physics and
math from Brown University, a master's degree in physics
from Stanford and an MBA from Emory. (Getty Images).
Washington Post
By Keith B. Richburg
Thursday, November 5, 2009
GUANGZHOU, CHINA — The mixed-race son of a brilliant but troubled Kenyan academic and a white American woman writes an emotionally wrenching book about his search for identity and self. But this is not the familiar story of President Obama. It is the tale of his publicity-shy younger half brother, Mark Okoth Obama Ndesandjo, who has lived in the southern Chinese city of Shenzhen for seven years and has just produced a loosely autobiographical work of fiction titled "Nairobi to Shenzhen: A Novel of Love in the East." Read more.
Video: Obama's brother writes a book, talks about abusive father‎